Cashless transactions increase by 76 percent in January-May
VGP – Prime Minister Pham Minh Chinih on Monday chaired the 3rd meeting of the National Committee for Digital Transformation to review the progress of digital transformation in the first six months of 2022.
August 08, 2022 4:01 PM GMT+7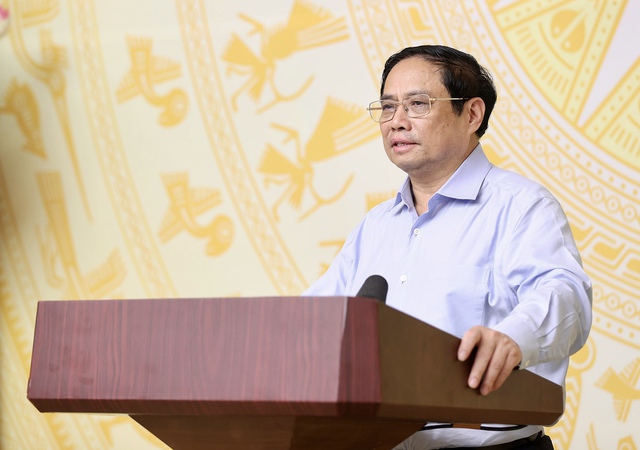 Present at the meeting include Deputy Prime Minister Vu Duc Dam-Standing Vice Chairman of the Committee, Minister of Information and Communications Nguyen Manh Hung-Vice Chairman of the Committee, Minister-Chairman of the Government Office Tran Van Son, Minister of Finance Ho Duc Phoc, Minister of Home Affairs Pham Thi Thanh Tra, Minister of Construction Nguyen Thanh Nghi, Minister of Industry and Trade Nguyen Hong Dien, Governor of the State Bank of Viet Nam Nguyen Thi Hong, Deputy Minister of Public Security Nguyen Duy Ngoc.

In his opening remarks, Prime Minister Pham said digital transformation is defined as a key task with a focus on development of digital Government, digital economy, and digital society.
Viet Nam's digital economy's contribution to GDP rose to 10.41 percent in the first half from 9.6 percent in 2021, according to the Ministry of Information and Communications.
The Government planned to increase the above figure to 20 percent by 2025.
The number of digital technology enterprises was estimated to reach 67,300, an increase of 3,500 enterprises from December last year.
About 99 percent of enterprises use digital platforms to pay taxes.
Non-cash transactions increased by 76 percent in quantity and 30.6 percent in value in the first five months compared to the same period last year.
To date, the percentage of eligible public services delivered online at level 4 is 97.3 percent. The online processing rate is 36.9 percent, an increase of about 10 percent over the same period in 2021./.