Can Tho, Sapa among Top 10 ideal Asian destinations to enjoy autumn
VGP - The Mekong Delta city of Can Tho and the northwestern town of Sa Pa have been named among the Top 10 underrated Asia destinations for visitors to enjoy during autumn time by Canadian travel site The Travel.
September 25, 2023 4:35 PM GMT+7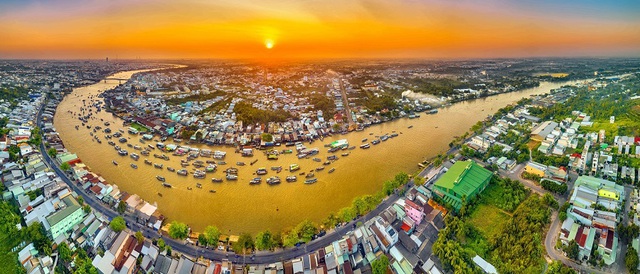 In the list, Can Tho ranked sixth and Sapa, seventh.
For Sapa, visitors can explore the rice terraces, hike the available trails, and take in the amazing cultural scenery. Indeed, it is one of the most scenic towns in the country and was once a sleepy town.

Between September and November, this charming town is filled with awesome autumn colors, giving it a unique look, especially in the rice terraces, which transform into vibrant golden colors.
The mountainous area is known for its incredible outdoor opportunities and undeniable cultural charm.
Meanwhile, Can Tho City as an excellent spot to visit in the autumn as it goes through a period of beautiful colors with fun activities to experience.
Holidaymakers can spend time enjoying boat riding along the Mekong River and at sunrise paying a visit to the Floating Market, which guarantees a memorable experience.
The market, it said, brims with fresh produce, including pumpkins, garlic, and some vegetables. Therefore, visitors can have a delicious breakfast before taking a leisurely stroll through the market.
"This is a good place to connect to the amazing culture of the place, as travelers can see people exchanging products and services all day long," the travel site stressed.
Other top destinations include Karakol of Kyrgyzstan, Aowanda National Forest Recreation Area of Taiwan, Gorkhi Tereji National Park of Mongolia, Saiho-Ji Temple of Japan, Nami Island of the Republic of Korea, Korankei Valley of Japan, Qingjing Farm of Taiwan, and Bromo Tengger Semeru National Park of Indonesia./.