Cabinet reviews Jan-August socio-economic performance
VGP - Prime Minister Pham Minh Chinh chairs a Cabinet meeting on Tuesday to scrutinize socio-economic performance and the implementation of the socio-economic recovery program in January-August period.
September 06, 2022 12:00 PM GMT+7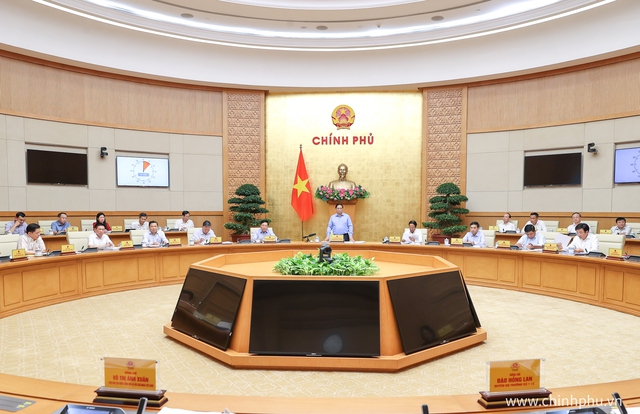 The Cabinet members will also discuss the allocation and disbursement of public investment capital and the State budget, the implementation of three national target programs, the draft version of socio-economic development plan and public investment for 2023 and the national master plan for the period 2021-2030, with a vision to 2050.
In his opening remarks, Prime Minister Pham noted that countries are facing a number of challenges including economic slowdown and recession, supply chain disruption, high inflation, non-traditional security issues, and climate change impacts.
Viet Nam has, however, has managed to maintain its macro-economic stability and controlled inflation rate over the reviewed period, underscored the Government leader.
Official statistic data showed that the country's total exports and imports in the first eight months reachedUS$497.64 billion, a year-on-year increase of 15.5 percent, of which export turnover hit US$250.8 billion, up 17.3 percent and import value were estimated at US$246.84 billion, up 13.6 percent.
Viet Nam enjoyed a trade surplus of US$3.96 billion in eight months.
Remarkably, the nation earned US$36.3 billion from exporting agricultural-aquatic-forestry products over the last eight months of 2022, a year-on-year increase of 13.1 percent.
The number of resumed and newly-established firms reached 149,451 in the first eight months of 2022, up 31.1 percent on year.
The inflows of foreign direct investment decreased by 12.3 percent on year to nearly US$16.8 billion as of August 20 while disbursed volume was estimated at US$12.8 billion.
The consumer price index went up 2.58 percent compared to the same period last year and core inflation rose by 1.64 percent./.