CAAV proposes increasing fleet size to 234
VGP - The Civil Aviation Authority of Viet Nam (CAAV) proposed the Ministry of Transport allow air carriers to increase the size of their fleets from 225 to 234 in line with increasing domestic demand in the post pandemic time.
January 09, 2023 2:42 PM GMT+7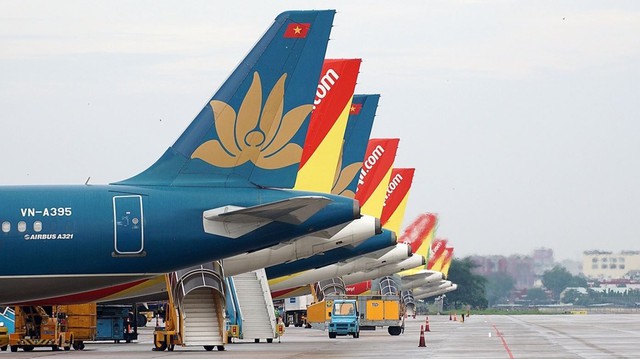 In a document sent to the ministry, the CAAV said more aircraft are needed to satisfy the growing demand during the upcoming Lunar New Year (Tet), the biggest festival in Viet Nam.
However, the number should not exceed that recorded in January 2020 (234 planes).
The agency noted that the Vietnamese aviation sector, particularly the domestic market, has recovered since March 2022 when Viet Nam fully reopened its doors.

Statistics show that each plane carries an average of 250,000 passengers per year, and with the number of domestic passengers projected to reach 45.5 million this year, the domestic market alone needs 182 aircraft.
The Vietnamese airlines also need 230 aircrafts for international routes in the first months of this year, which would rise to 250 in the following months.
The domestic carriers, comprising Viet Nam Airlines, Vietjet Air, Pacific Airlines, Bamboo Airways and Viettravel Airlines, are operating 225 aircrafts, of which 35 are under either maintenance or preservation.
The domestic market completely recovered, expanding by 30 percent in the 2022 summer as compared with 2019. Meanwhile, the international market started to come online in late 2022, recovering to about half of the pre-pandemic level.
The sector is expected to fully recover in the second half of 2023, requiring airlines to expand their fleets, the CAAV explained.
Airlines transported about 55 million passengers in 2022, a 3.7-fold increase from the previous year and equivalent to 69.6 percent of that in the pre-pandemic 2019, the CAAV reported.
About 1.25 million tons of cargo were transported by air last year, equivalent to the volume in 2019.
Vietnamese airlines have officially resumed regular flights to China from Junuary 8 as the northern neighbor lifts Covid-19 restrictions./.