Budget overspending below 4% of GDP, public debt within allowed limit
VGP – Prime Minister Nguyen Xuan Phuc on January 8 attended an online conference to review the financial and stage budget performance in 2020 and launch tasks for 2021.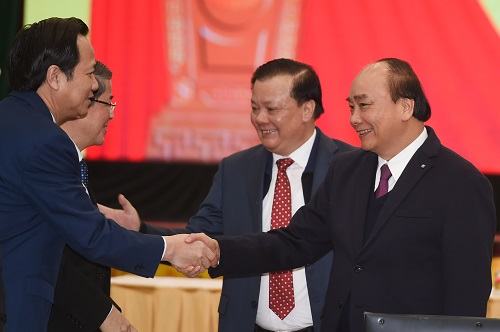 Prime Minister Nguyen Xuan Phuc (first from right) shakes hands wiht Minister of Labor, Invalids and Social Affairs Dao Ngoc Dung at the event. Photo: VGP
The event saw the participation of leaders of ministries and sectors, and nearly 5,000 officials and civil servants of the entire financial sector at 63 video conferencing locations nationwide.
According to a report by the Ministry of Finance, many flexible fiscal policy solutions (such as exemption, reduction and extension of taxes, charges, fees and land rentals) were implemented in 2020 to remove obstacles for production and business, thus promptly supporting businesses and household businesses to overcome the difficulties caused by the COVID-19 pandemic.
As of December 31, 2020, approximately VND123.6 trillion (US$5.35 billion) worth of taxes, charges, fees and land rentals have been extended, exempted or reduced.
The country's state budget revenue in 2020 met 98% of the estimate and rose by VND184 trillion (US$7.97 billion) compared to the assessment at the National Assembly in October 2020. The mobilization ratio from GDP to the state budget reached 23.9%.
Regarding the 2016-2020 period, the total state budget revenue hit VND6.89 quadrillion (US$298.67 billion), exceeding the set plan. This is a very positive figure in the context of challenges posed by the COVID-19 pandemic.
The structure of state budget revenue has been more sustainable, with the proportion of domestic revenue increasing from an average of 68% in the period of 2011-2015 to 85.5% in 2020, and the proportion of crude oil revenue and balancing revenue from import-export activities reducing from 30% on average during 2011-2015 to about 14.2% last year.
By Vien Nhu