Bright signs seen in trade and investment between VN, Azerbaijan
VGP – The Việt Nam–Azerbaijan Business Dialogue was organized on Thursday in Bacu, the capital city of Azerbaijan, with the attendance of over 100 enterprises and investors of the two sides.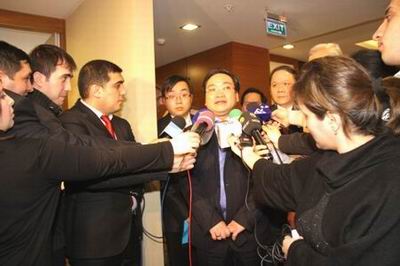 Azerbaijani press circle shows their interest in prospects for business cooperation with Việt Nam in an interview with Vietnamese Deputy PM Hoàng Trung Hải, Bacu, April 8, 2010 - Photo: VGP/Nguyên Linh

At the event, Deputy PM Hoàng Trung Hải reconfirmed Việt Nam's diplomatic policy to cement and deepen relations with traditional friends and partners, including Azerbaijan.

He added that the Government and business community of Việt Nam want to consolidate cooperation with Azerbaijani partners in the fields of common advantages, such as petroleum, steel, chemical, and garment.

The host Deputy Economic Development Minister, Mr. Nhiazi Sapharov, talked of Việt Nam as a promising market which can profit Azerbaijan in many fields.

Many reports presented at the dialogue gave investors of the two sides a better insight in their respective situations and potentials.

A number of enterprises informed that, through direct talks, they could identify some partners and business chances in the domains of petrochemistry, gas, garment, footwear, and construction. Some even mentioned ways to remove intermediary steps in order to facilitate trade activities.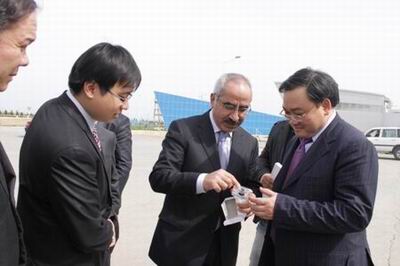 Deputy PM Hoàng Trung Hải (1st from left) visits the Sangachal Oil Terminal of Azerbaijan, April 8, 2010 – Photo: VGP/Nguyên Linh
In the afternoon of the day, Deputy PM Hải paid a visit to Sangachal Oil Terminal, the leading petroleum enterprises in Azerbaijan.