Belgium donates sanitary packages to preschool children in 3 central provinces
VGP - Belgian Ambassador Paul Jansen on June 10 paid a visit to Belgian-funded program in early childhood education in Quang Nam province.
June 11, 2020 11:16 AM GMT+7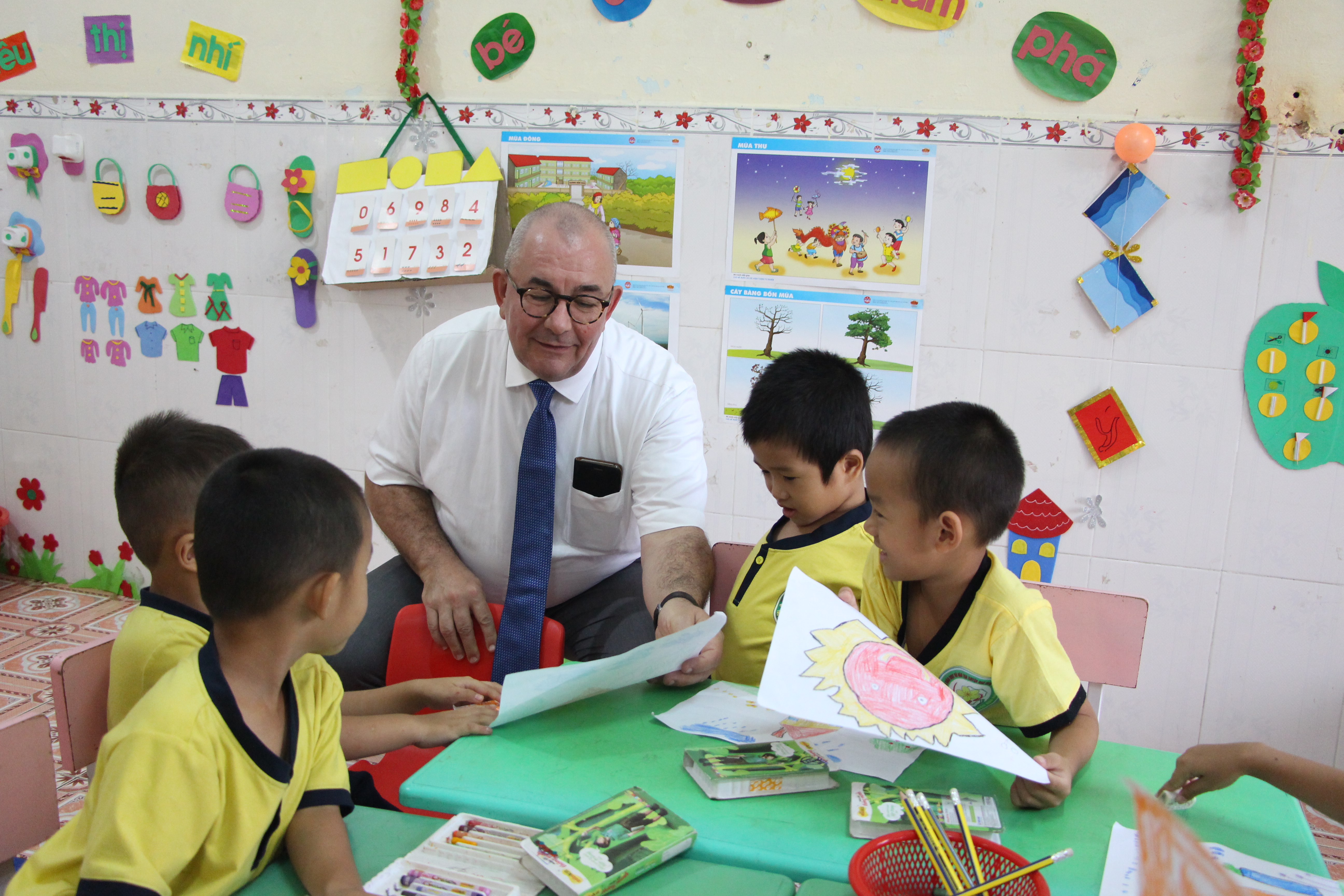 Ambassador Paul Jansen visits Hoa Mai preschool in Tra Mai Commune, Nam Tra My District, Quang Nam Province on June 10, 2020
The Program "Mitigating Preschool Children's Barriers to Learning in Disadvantaged and Ethnically Diverse Districts -BAMI" (2017-2021) with a total budget of €4.142.000 is operated by the Flemish Association for Development Cooperation and Technical Assistance (VVOB).
The VVOB program focuses on improving the quality of learning of 3- to 5-year-old children in Early Childhood Education in remote ethnic minority districts in 3 provinces in Central Viet Nam: Kon Tum, Quang Nam and Quang Ngai.
The project strengthens the competences of pre-school teachers on process-oriented child monitoring and enables preschool teachers to address gender, environment and ethnic diversity barriers to learning and participation and to ensure deep level learning among all children.
In each province, the program partners with the Department of Education and Training on a Professional Teacher Development trajectory for the preschool leaders and teachers in their respective districts. To facilitate the program the capacity of the Departments and Bureaus of Education and Training is built.
During the school closure VVOB developed guidelines "back to school after the Covid-19" to support the teachers to ensure the children's wellbeing at their return to preschool after a long period of school closure.
Ambassador Paul Jansen and the delegation visited Tra Mai commune - one of the areas of the BAMI program. Being aware of the serious impact of the Covid-19 pandemic on education, the children and their parents, the Belgian Embassy took the opportunity to present sanitary packages (washable masks, soap and hand towels) to preschool children and families. The same sanitary packages were offered to preschool children in Quang Nam, Quang Ngai and Kon Tum province. In total 6200 children received this hygienic support. In this way the embassy hopes to contribute to the successful fight against the Covid-19 in Viet Nam and to keep the virus out of the schools.
Ambassador Paul Jansen is looking forward to the positive changes brought about by the Belgian-funded projects and is hopeful that VVOB can continue to help to mitigate the adverse effects of the Covid-19 on the education of the pre-school children./.
By Kim Anh