Australian Prime Minister to pay official visit to Viet Nam
VGP - Australian Prime Minister Anthony Albanese will pay an official visit to Viet Nam from June 3-4 to mark 50 years of diplomatic relations between the two countries, announced the Australian Embassy in Viet Nam.
May 30, 2023 5:37 PM GMT+7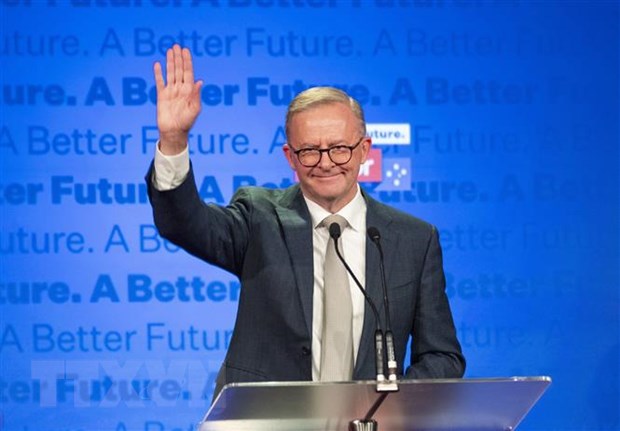 During his visit, the Prime Minister will meet with Viet Nam's senior leaders to discuss ways to boost trade, investment and education links and expand cooperation on climate, energy and the environment.
Viet Nam is an increasingly important economic and strategic partner for Australia in Southeast Asia, an area of focus for the Albanese Government.
This is the Prime Minister's first official visit to the Southeast Asian nation.
"My first official visit to Viet Nam is an opportunity to celebrate the 50th anniversary of diplomatic relations and agree on new areas of economic, trade and other cooperation to deliver a stronger relationship into the future", shared Anthony Albanese.
Viet Nam, Australia eye stronger bilateral ties
Viet Nam and Australia celebrated the 50th anniversary of their diplomatic relations in February 2023.
The bilateral friendly cooperation has developed robustly over the last 50 years in economics, politics and security. Progress has been made in areas including agriculture, education and tourism.
Politically, Viet Nam and Australia's diplomatic relationship was upgraded to a strategic partnership in early 2018, marking an important milestone in their ties. For Viet Nam, Australia is a long-standing traditional development partner and a priority partner in foreign policy.
Economically, the two nations are both members of several multilateral agreements, including the ASEAN-Australia-New Zealand Free Trade Agreement, the Comprehensive and Progressive Trans-Pacific Partnership and the Regional Comprehensive Economic Partnership. Both sides have also agreed to bring the Australia–Viet Nam Enhanced Economic Engagement Strategy into full play.
Viet Nam has been one of Australia's fastest-growing trading partners in recent years and the bilateral trade value in 2022 grew around 27 per cent on the previous year to around AUD23.5 billion, elevating Australia to be Viet Nam's 7th largest trading partner with Viet Nam now Australia's 10th largest trading partner.
Viet Nam is the 5th largest source markets of international students to Australia with 27,000 student enrolments and over 8,000 Vietnamese undertaking an Australian qualification in Viet Nam./.