Australia sees Viet Nam as close and strategic partner
VGP - Australia sees Viet Nam as a close and strategic partner and a good friend, said Australian Ambassador to Viet Nam Andrew Goledzinowski.
March 15, 2023 11:04 AM GMT+7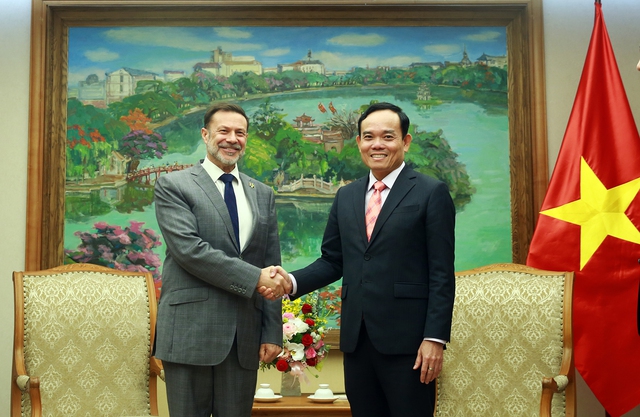 Andrew Goledzinowski made the above statement during his meeting with Deputy Prime Minister Tran Luu Quang in Ha Noi on March 14.
The Deputy Prime Minister were pleased to witness the strong and practical development of the strategic partnership between the two countries in various domains. Especially, the two-way trade reached US$16.1 billion in 2022, more than 30 times higher than in 2021, making Australia the 10th largest trade partner of Viet Nam and Viet Nam the seventh biggest trade partner of Australia.
Regarding investment, Australian investors have poured nearly US$ 2 billion in in 579 projects in Viet Nam, ranking 20th out of 141 countries and territories investing in the Southeast Asian nation. On the other hand, Viet Nam has 87 investment projects capitalized US$540 million in Australia.
In the area of peacekeeping operations, Australia helped Viet Nam four times to transport staff of Level 2 field hospitals to South Sudan, provided English language training to peacekeepers as well as equipment to the field hospitals.
In addition, Australia offered 26.4 million doses of COVID-19 vaccines, becoming the second largest vaccine donor of Viet Nam.
The host leader took the occasion to urge the two sides work closely to in organizing events to mark the 50th founding anniversary of Viet Nam-Australia diplomatic ties this year, including thorough preparations for the exchange of delegations in the coming time.
In reply, Ambassador Goledzinowski announced that Australia has decided to raise its official development assistance (ODA) for Viet Nam by 18% during the financial year 2022-2023 to AUD 92.8 million (US$ 61.9 million), with the expectation to build more works in Viet Nam.
The pair also highlighted the importance of ensuring peace, stability and cooperation in the region and the world, and respect for the United Nations Charter and international law./.