Australia pledges to help Viet Nam secure additional 3.7 million COVID-19 vaccine doses
VGP – Australia announced Wednesday that it will help Viet Nam secure additional 3.7 million doses of COVID-19 vaccines in the coming time.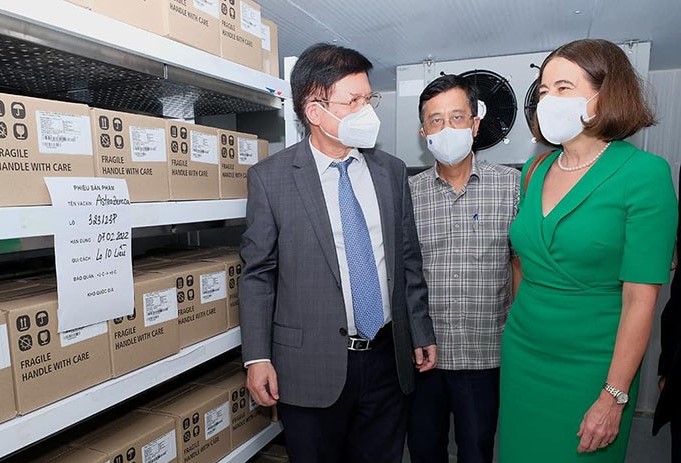 Australian Ambassador to Viet Nam Robyn Mudie (right) and Deputy Minister of Health Truong Quoc Cuong (left) at a handover ceremony of 300,000 COVID-19 vaccine doses and medical supplies from Australia, Ha Noi, October 6, 2021
Earlier, Australia had committed to share 1.5 million doses with Viet Nam, of which 700,000 doses have been delivered to the Southeast Asian country.
The same day, Vietnamese Prime Minister Pham Minh Chinh expressed sincere thanks for Australia's valuable support in his letter addressed to Australian Prime Minister Scott Morrison.
Speaking to Morrison over the phone on May 25, Pham thanked Australia for its commitment to grant AUD 40 million to support Viet Nam's COVID-19 vaccine procurement.
The Government planned to purchase at least 150 million doses of vaccines this year for everyone aged 18 and above.
To secure the vaccine supply, the country's top leaders have held dozens of phone conversations with foreign leaders and chief executive officers of vaccine producers to step up vaccine delivery as much and as soon as possible as vaccines are key to saving lives and boosting economic recovery.
As of 6:30 pm on October 6, Viet Nam confirmed 822,687 COVID-19 infections, including 757,086 recovered cases and 20,098 deaths./.
By Huong Giang