ASEAN to coordinate with China for early conclusion of COC negotiations
VGP - Deputy Minister of Foreign Affairs and Head of Viet Nam's ASEAN SOM Nguyen Quoc Dung chaired an online ASEAN Senior Officials' Meeting on October 7.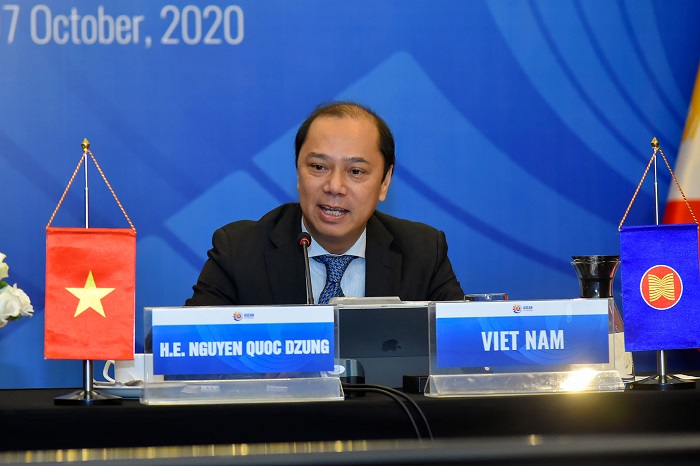 Deputy Foreign Minister Nguyen Quoc Dung
The meeting drew the participation of the heads of SOMs of ASEAN member states and an ASEAN Deputy Secretary General.
Participants expressed their satisfaction with achievements in ASEAN cooperation since the beginning of this year.
Under the lead of Viet Nam in its role as 2020 ASEAN Chair, the ASEAN Community building process has been implemented on schedule, they said, while emphasising the importance of sub-regional development as well as the need for ASEAN to coordinate cooperative activities in sub-regions.
Regarding the East Sea issue, the SOM reiterated the bloc's stance expressed at the 36th ASEAN Summit and the 53rd ASEAN Foreign Ministers' Meeting, which affirms the importance of maintaining and promoting peace, security, stability, and navigation and aviation safety and freedom in the East Sea.
The ASEAN member countries pledged to fully and effectively enforce the Declaration on the Conduct of Parties in the East Sea (DOC) and coordinate with China to quickly complete negotiations for an effective Code of Conduct in the East Sea (COC), which is in accordance with international law, including the 1982 UN Convention on the Law of the Sea (UNCLOS).
The meeting also approved the Terms of Reference (TOR) on the establishment of an ASEAN Regional Reserve of Medical Supplies (RRMS) and an ASEAN COVID-19 response fund.
They urged ASEAN medical officials to soon establish Standard Operating Procedures (SOP) for Public Health Emergencies Response. They also exchanged opinions on a draft ASEAN Comprehensive Recovery Framework and expressed support for a plan to build a travel corridor between ASEAN countries amid the complex developments of the COVID-19 pandemic.
Countries stressed the importance of ASEAN's central role and backed Viet Nam's proposal to issue an ASEAN Plus 3 declaration on economic and financial self-reliance to respond to newly-emerging challenges.
Dung spoke highly of ASEAN members' cooperation with Viet Nam and asked for increased coordination to complete existing initiatives in 2020 as well as initiatives in response to the pandemic.
He stressed that Viet Nam, as ASEAN Chair in 2020, is exerting every effort to prepare for the 37th ASEAN Summit, slated for November./.
By Huong Giang