ASEAN, Russia should work together to reinforce open, rule-based architecture
VGP - Deputy Prime Minister, Foreign Minister Pham Binh Minh suggested ASEAN and Russia should work together to reinforce an open, inclusive, transparent and rules-based regional architecture, while delivering his remarks at the Special ASEAN-Russia Foreign Ministers' Meeting on COVID-19 on Wednesday.
June 17, 2020 6:44 PM GMT+7
The following are his full remarks:
Excellencies Co-Chairs, Minister Retno Marsudi and Minister Sergey Lavrov,
Excellencies ASEAN Foreign Ministers,
1. A very good afternoon to all ASEAN colleagues and warmly welcome Minister Sergey Lavrov joining our video-conference. I look forward to our fruitful discussions today on strengthening ASEAN-Russia partnership in response to the COVID-19.
2. While we are meeting, infections have decreased in some parts of the world and many countries see positive signs, but globally, situation remains challenging. With new clusters of COVID-19 outbreak recently been reported, worries remain about possible second wave of virus spread.
In ASEAN region, despite of new infections reported daily, basically, nations have been able to keep the situation under control. Recovery rates are positive and people have confidence in the governments' health care measures. A number of countries, including Viet Nam, have recorded no locally-transmitted cases for many consecutive days.
ASEAN has taken swift responsive actions right from the early outbreak of the COVID-19 in the region. As the ASEAN Chair in 2020, Viet Nam has been working closely with ASEAN Member States in promoting a whole-of-community, multi-sectoral and multi-stakeholder approach with effective coordination at both regional and national level.
Highest-level of commitment has been demonstrated by ASEAN Leaders at a Special Summit on COVID-19 on 14 April 2020. Practical cooperative measures and initiatives have been put forward across various sectors of the ASEAN Community to strengthen regional capacity in pro-active response to the challenges of COVID-19.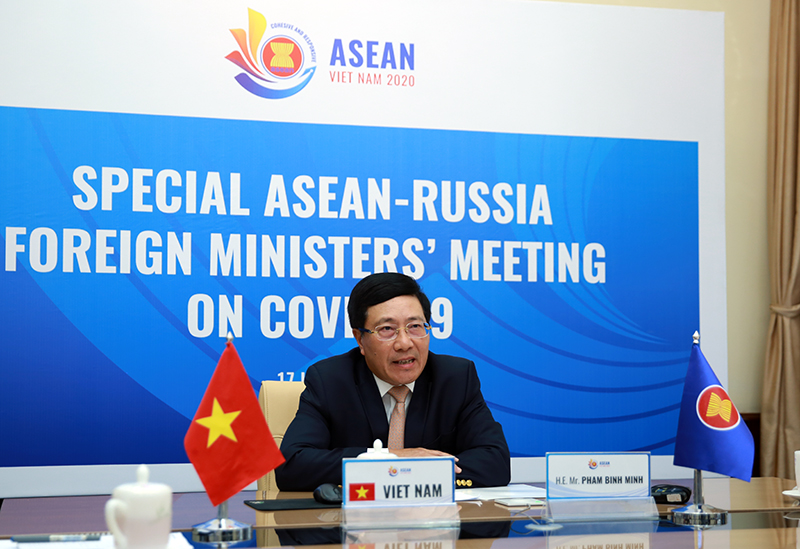 Deputy Prime Minister, Foreign Minister Pham Binh Minh speaks at the Special ASEAN-Russia Foreign Ministers' Meeting on COVID-19. Photo: VGP
3. There is no doubt the world will need to find ways of co-existing with the threats of COVID-19 as long as an active vaccine has not been produced. In ASEAN, we have been working on a dual-track approach, that is: containing the spread of the virus, and at the same time ensuring economic recovery and development.
At the forthcoming 36th ASEAN Summit, ASEAN Leaders will discuss plans for addressing the socio-economic impacts of COVID-19, towards a comprehensive recovery of ASEAN.
Dear colleagues,
4. ASEAN and Russia have been active partners in cooperation on infectious diseases. At the 3rd ASEAN-Russia Summit in 2018, a Russia-initiated program on 'ASEAN-Russia Dialogue Partnership Capacity Building for Pandemic Prevention' were agreed by the Leaders, serving as an important framework for cooperation in public health and pandemic response.
On the way forward, I wish to share a few suggestions to further strengthen ASEAN-Russia cooperation in response to emerging public health emergencies as follows:
First, strengthening exchange of information, sharing of experience and best practices, deepening cooperation in research and development of vaccines and anti-viral medicines. We welcome the proposal to enhance cooperation between the Russian Federal Service for Surveillance on Consumer Rights Protection and Human Well-Being and ASEAN's Senior Officials on Health Development in this regard.
We also encourage Russia to actively support the COVID-19 ASEAN Response Fund and ASEAN Regional Reserve of Medical Supplies, the flagship initiatives that have been approved by ASEAN Leaders in tackling the COVID-19 pandemic.
Second, gradually restoring socio-economic activities to normal and sustaining growth. ASEAN and Russia should work together in coordinating policies and harmonizing actions in sustaining stable flow of trade and investment, avoiding disruption of regional and global supply chain while assisting the affected businesses and people to gradually return to normal.
Ensuring food security in pandemic and post-pandemic situations is a prominent area where ASEAN and Russia can join hands as Russia and many ASEAN countries are leading agricultural producers.
As each other's promising tourist destination, we should also look at the possibility of renewing tourism flow when conditions allow for lifting travel restrictions.
We also suggest businesses from Russia and ASEAN countries to look at new opportunities for diversifying trade and investment, taking into account the shifting of flows in goods and investment in the context of the COVID-19 pandemic. The Memorandum of Understanding between ASEAN and the Eurasian Economic Commission on Economic Cooperation can serve as a good basis for this purpose.
Third, reinforcing an open, inclusive, transparent and rules-based regional architecture.
The COVID-19 pandemic has unleashed profound challenges to the global multilateral system, arousing inward trends in many countries while restricting free trade, investment and movement of people. ASEAN remains our steadfast commitment to multilateralism and reiterates the importance of enhanced dialogue and cooperation in response to emerging challenges.
As a major player in the region and the world, Russia is welcome to play a constructive and responsible role, through its active engagement at ASEAN-led mechanisms, in reinforcing an open, inclusive, transparent and rules-based regional architecture, with ASEAN at the center.
At this critical juncture, I also wish to emphasize the critical need for all countries to hold responsibility in maintaining a peaceful, stable and secure environment and respect of international law.
Having said that, Viet Nam supports Russia's proposal for an EAS Leaders' Statement in Strengthening Collective Capacity in Epidemics Prevention and Response at the 15th East Asia Summit later this year and welcome enhanced ASEAN-Russia military medicine cooperation through the ADMM-Plus Working Group on Military Medicine.
We also look forward to Russia's support for Viet Nam's proposal for an ARF Ministerial Statement on Enhancing Cooperation to Prevent and Combat Infectious Disease Outbreaks to be adopted at the upcoming 27th ARF in August 2020.
I thank you./.