ASEAN looks to stronger human resources for economic recovery and growth
VGP – The 21st ASEAN Labor Ministers' Meeting (ALMM) was opened on May 24 in Hà Nội with the participation of Vietnamese PM Nguyễn Tấn Dũng, 11 Ministers and officials in charge of labor and job generation of ASEAN member states.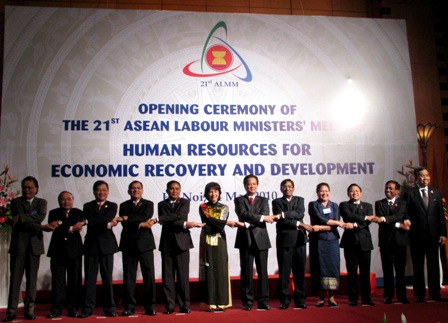 PM Nguyễn Tấn Dũng (6th from R) and Labor Ministers of ASEAN member states, Hà Nội, May 24, 2010 – Photo: VGP/Thu Cúc
Under the theme "Human resources for economic recovery and development," the meeting targets to discuss regional human resources management, development of occupational skills, labor market information, and job generation.
Delegates are expected to adopt an action plan of ASEAN labor ministers in the 2010-2015 period to develop human resources, ensure sustained job generation, put forth social welfare and equity, and protect legitimate rights for guest workers.
Addressing the event, PM Nguyễn Tấn Dũng lauded the theme and agenda of the 21st ALMM which would make significant contributions to fostering cooperation within the bloc's member states and realizing the targets which were initiated by the International Labor Organization (ILO) regarding sustainable employment and social equity.
Việt Nam regards social development, including poverty reduction, social progress and equity, better human resources, and job generation, as one of the top priorities in the country's strategy on sustainable development.
The Government chief also informed that the Party and State of Việt Nam have spared no effort to conduct numerous policies and programs on social welfare and development. Specifically, the poverty rate in Việt Nam stands at 11% and the percentage of trained laborers is around 40% of the work force./.
By Hương Giang