ASEAN leaders appreciate Japan's support for COVID-19 fight
VGP – Leaders of ASEAN member states appreciated Japan's support for the bloc's fight against COVID-19 during the ASEAN-Japan Summit held virtually on Wednesday morning.
October 27, 2021 3:00 PM GMT+7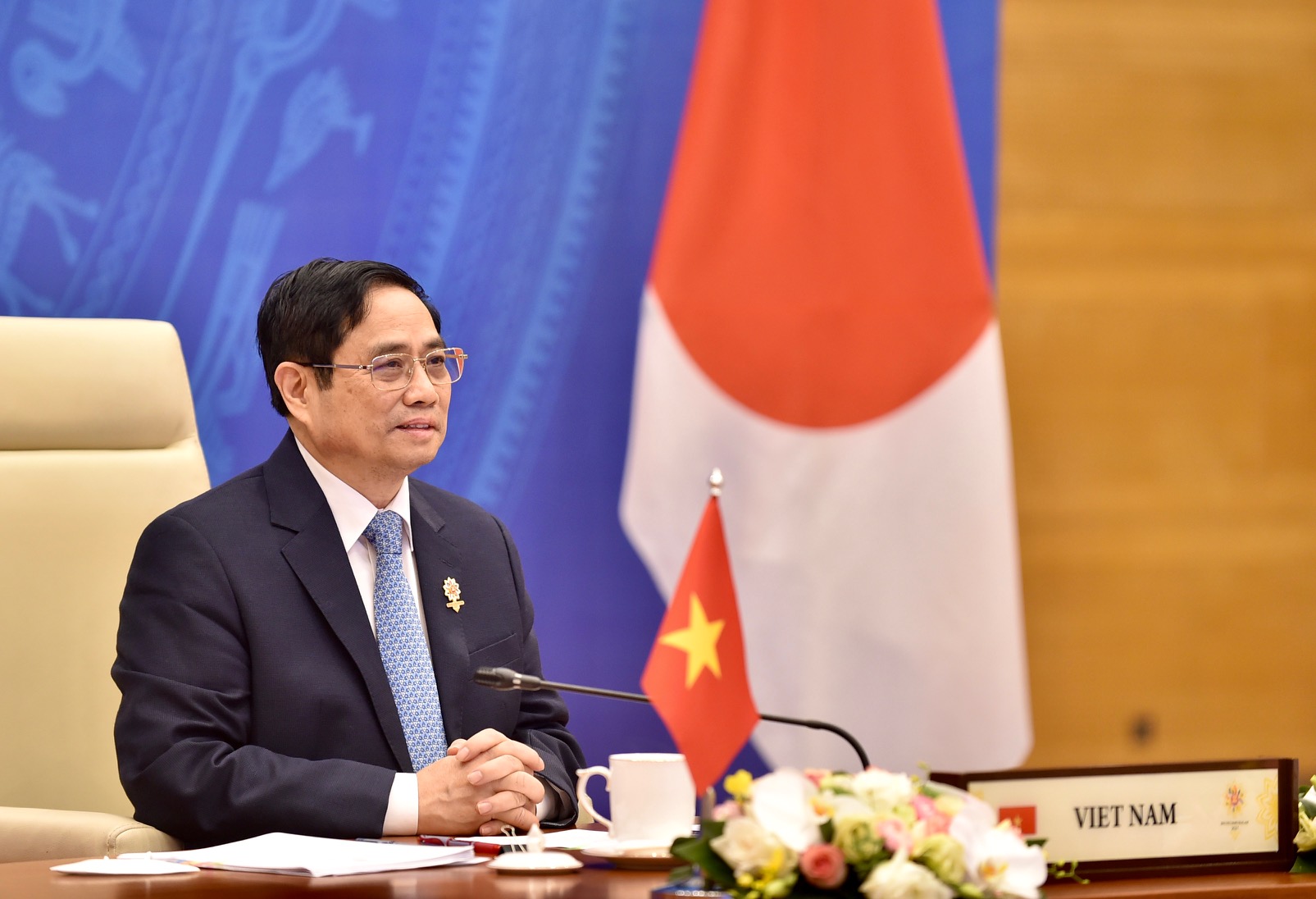 Prime Minister Pham Minh Chinh attends the ASEAN-Japan Summit via video conference, October 27, 2021. Photo: VGP
Speaking at the summit, Japanese Prime Minister Kishida Fumio said Japan has sent 16 million doses of vaccines to ASEAN countries, provided more than ¥32 billion in aid to the bloc while actively assisting ASEAN in implementing its comprehensive recovery framework by offering a loan of ¥192 billion.
Kishida voiced support for ASEAN centrality in the regional architecture as well as the bloc's efforts in community building.
He affirmed his country attaches importance to the ASEAN-Japan partnership, pledging to further enhance cooperation with ASEAN, and helping ASEAN narrow development gap and advance sub-regional development.
The Japanese PM invited ASEAN leaders to the special summit to mark the 50 founding anniversary of ASEAN-Japan cooperation scheduled to take place in Japan in 2023.
Regarding regional and international issues, the leaders to the summit underlined the importance of dialogue, cooperation, trust building, and respect for international law. They agreed on the need to coordinate in ensuring peace, security, and stability in the region, including maritime security and safety in the East Sea.
Kishida affirmed support for ASEAN's position on the East Sea and welcomed ASEAN's role in accelerating cooperation, dialogue, and trust building in the region, as well as full implementation of the Declaration on the Conduct of Parties in the East Sea (DOC), formation of an efficient and effective Code of Conduct in the East Sea in line with international law, including the 1982 United Nations Convention on the Law of the Sea.
Japan also support ASEAN's role in promoting dialogue and reconciliation in, and helping Myanmar to seek solutions to stabilize the situation there.
Addressing the event, Vietnamese Prime Minister Pham Minh Chinh thanked the participating countries for their support for and cooperation with Viet Nam during the 2018-2021 period when Viet Nam plays the role as the coordinator for the ASEAN-Japan relations.
He suggested ASEAN and Japan should step up cooperation to effectively manage the COVID-19 pandemic, reboot sustainable development, enhance the capacity to respond to health emergencies/
Pham called on Japan to continue assisting ASEAN in narrowing development gap, promoting inclusive and sustainable regional development, developing strategic infrastructure, green growth, digital transformation, and digital economy.
The Vietnamese PM underscored the significance of fostering cooperation and trust building in order to maintain an environment of peace, security and stability in the region, including the East Sea and the Korean peninsula./.
By Huong Giang