ASEAN emergency rice reserve role highlighted
VGP – The ASEAN Plus Three Emergency Rice Reserve (APTERR) Council convened its second meeting on May 29 in Ha Noi.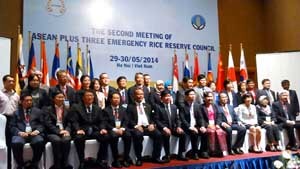 Photo: VGP/Do Huong
Hosted by the Vietnamese Ministry of Agriculture and Rural Development (MARD),
the meeting focused on amending and supplementing the financial management principles and procedures of the council.
It was scheduled to discuss cooperative mechanisms between the ASEAN Integrated Food Security Framework and agree action plans in the phase from 2014-2015.
Speaking at the event, MARD Deputy Minister Le Quoc Doanh said that food security, especially at times of emergency and disasters, need joint efforts in the region.
The APTERR is a regional cooperation mechanism embarking on humanitarian activities with professional and business sense operation.
It was established in 2012 under the purview of the ASEAN plus People's Republic of China, Japan and Republic of Korea Ministers of Agriculture and Forestry to secure food security in an emergency caused by temporary and large scale calamity.
The APTERR is mutual assistance system to provide necessary quantity of rice flexibility and effectively to rice-needy people. APTERR primary function is food aid for assistance to build confidence in encountering food shortage due to temporary natural disaster or man-made calamity, through provision of food assistance and nutrition improvement program to the needy people.
By Thuy Dung