Apple, Boeing, Google urged to expand investment in Viet Nam
VGP - Prime Minister Pham Minh Chinh hosted separate receptions for executives of several U.S. corporations, including Apple Inc., Boeing Company, Google, Siemens Healthineers, in New York on September 21.
September 22, 2023 6:02 AM GMT+7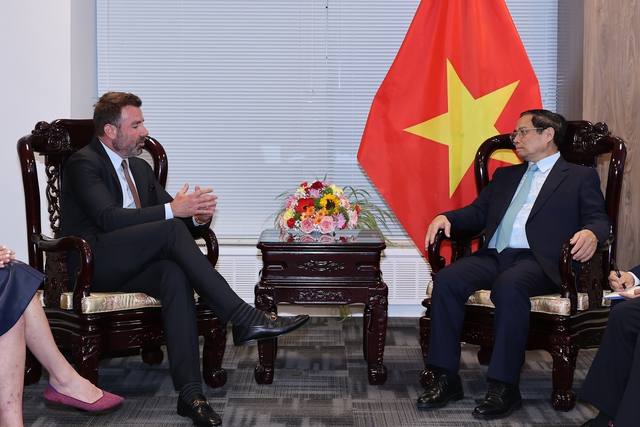 He hailed the successful operation of Apple in Viet Nam at the meeting with Nick Ammann, Director of Apple Global Government Operations. Apple's export value in Viet Nam reached around US$30 billion in 2022.
He suggested that Apple continue to expand investment in Viet Nam, increase the local content and serve as a bridge for U.S. firms and Apple's partners to invest ịn the Southeast Asian nation. He also expected that Apple will turn Viet Nam into an important link in its supply and production chain.
During a reception for Brendan Nelson AO, senior vice president of Boeing Company and president of Boeing Global, Pham urged Boeing to expand its manufacturing and supply chain in Viet Nam and soon build its maintenance facility in the country.
The Prime Minister also took the occasion to seek Boeing's support for Vietnamese partners in personnel training and technology transfer so that they can participate deeper in Boeing's supply chain.
Pham called upon Google to support Viet Nam's national innovation center and provide digital transformation training for Vietnamese firms while receiving Karan Bhatia, the Vice-President, Government Affairs and Public Policy at Google.

He also voiced his support for Google to expand operation in Viet Nam.
The same day, Prime Minister Pham witnessed the exchange of investment agreements between firms of the two countries in the fields of industrial park development, green growth, production and distribution of pharmaceuticals, and human resources training in semi-conductor./.