Aid Effectiveness & Regional Economic Integration
VGP - That is the theme of the seminar on "Challenges in Cooperation and Communication for Development in Southeast Asia" from April 26-27 in Hà Nội with the participation of over 70 delegates from 13 countries.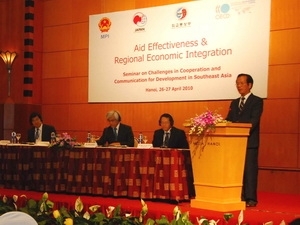 Mr. Võ Hồng Phúc, Minister of Planning and Investment, is addressing the seminar's opening ceremony, Hà Nội, April 26, 2010 - Photo: Vietnam

Addressing the seminar's opening ceremony, Mr. Võ Hồng Phúc, Minister of Planning and Investment, affirmed that the Vietnamese Government is closely coordinating with donors to accelerate international cooperation.

He described the seminar as a good opportunity for sharing experience and measures to enhance aid effectiveness of Southeast Asia in particular and countries around the world in particular.

The delegates focused their discussions on cooperation with neighbor countries, Southeast Asian economic integration to overcome global economic challenges, and aid effectiveness.

Besides, representatives of the European Union, the United Nations and the Asian Development Bank touched upon issues regarding the implementation of the Paris Declaration on Aid Effectiveness, and ways for Southeast Asian countries to make contributions to the 4th High Level Forum on Aid Effectiveness in the Republic of Korea in 2011.

The seminar was hosted by the Vietnamese Ministry of Planning and Investment, the Japanese Ministry of Foreign Affairs, the Korean Ministry of Foreign Affairs and Trade, and the OECD Development Center.