AFD gives € 30 mil. for private economic sector
VGP - The French Development Agency (AFD) today signed with Việt Nam's Ministry of Finance (MOF) the Agreement on opening a credit line worth of € 30 million for the project "Supporting private sector for People's Credit Fund."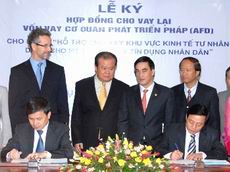 The signing ceremony of the Agreement on opening a €30-million credit line of the French Development Agency (AFD) for the project "Supporting private sector for People's Credit Fund," Hà Nội, November 18, 2009 – Photo: VGP
Accordingly, the MOF will re-lend this credit to the Việt Nam Association of People's Credit Funds (VAPCF) under preferential conditions.
The credit then will be allocated for individuals, households and private businesses trading in rural areas with the aim of encouraging them to invest in production and develop agricultural economy.
Apart from the credit, AFD also provide a non-refundable aid of €0.5 million for VAPCF and local People's Credit Funds in order to strengthen financial management, administrative management and supervision at international standards so that the credit will be used safely and effectively.