AFCP project to preserve UNESCO Heritage Site in Thanh Hoa
VGP – US Ambassador to Viet Nam Daniel J. Kritenbrink marked the completion of a project to preserve the South Gate of the Ho Citadel, which was funded under the Ambassador's Fund for Cultural Preservation (AFCP).
July 01, 2020 9:45 AM GMT+7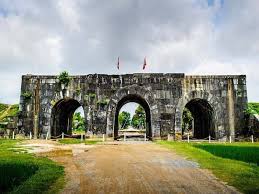 Ho Citadel
The AFCP approved a US$92,500 grant to conserve the South Gate, the most important remaining structure of the citadel which had been seriously damaged over time.
The South Gate's western (left) vault was in danger of collapsing because the keystone had cracked and become loose, threatening the safety of tourists and the overall structure of the gate.
Speaking at the unveiling ceremony, Ambassador Kritenbrink said: "The Citadel – its construction, layout, placement in the landscape, and the organization needed to build it – tells us so much about the people that built it and the society around them. It really is a part of the heritage of all of humanity."
The U.S. Embassy is honored to contribute to preserving this significant heritage site through the Ambassador's Fund for Cultural Preservation. Since the start of this program in 2001, the U.S. Mission has funded 14 projects throughout Viet Nam, totaling over US$1 million, and helping to preserve different aspects of Viet Nam's rich heritage.
The unveiling ceremony is part of the U.S. Mission in Viet Nam's activities to celebrate the 25th anniversary of U.S.-Viet Nam diplomatic relations.
Ambassador Kritenbrink said: "Cultural heritage preservation is only one of many fields of cooperation between our two countries. In areas as diverse as trade, development, education, health care, energy, and security, the United States and a strong and independent Viet Nam are working together with a shared commitment to peace and prosperity."
Built in 1397 by the Ho dynasty as the capital of Dai Ngu, Ho Citadel is unique for its outstanding construction technique, which used large blocks of stone, weighing from 10 to 26 tons each, carefully shaped, interlocked and elevated to about 10 meters high. The citadel served as a military stronghold to protect the country from invasion, thus becoming a symbol of patriotism, and a witness of Vietnamese history during the late 14th and early 15th century.
By Thuy Dung