ADB lowers Viet Nam's growth in 2021 to 5.8% from 6.7%
VGP – The Asian Development Bank (ADB) has lowered Viet Nam's economic growth forecast this year to 5.8 percent from 6.7 percent in April in its Asian Development Outlook (ADO) 2021 Supplement: Renewed Outbreaks and Divergent Recoveries which was published in July.
July 20, 2021 8:32 PM GMT+7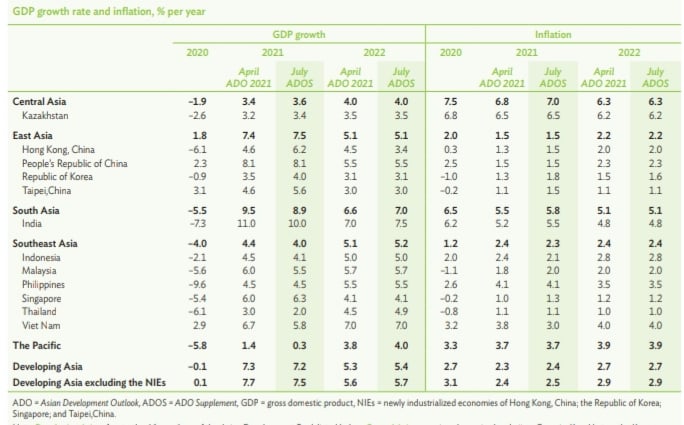 The GDP growth rate and inflation of nations in Asia, according to the Asian Development Outlook (ADO) 2021 Supplement: Renewed Outbreaks and Divergent Recoveries.
According to the ADB, the GDP growth in Viet Nam accelerated from 1.8 percent in the first half of 2020 to 5.6 percent in the same period this year as global recovery boosted exports, and despite disruption caused by a new wave of COVID-19 starting in late April.
Mobility restrictions drove the composite PMI down to 44.1 in June 2021, the lowest reading since May 2020.
Meanwhile, the ADB supposed that vaccination delays and an extended social distancing in the country's largest growth area may restrict mobility and limit economic activity in 2021.
The ADB is projecting 7.2% economic growth for developing Asia this year, compared with its 7.3% forecast in April, as renewed COVID-19 outbreaks slow the recovery in some economies in the region. The growth outlook for 2022 is upgraded to 5.4% from 5.3%.
In South Asia, new waves of infections prompt a lower growth forecast of 8.9% for 2021, followed by growth at 7.0% in 2022. India's 2021 growth projection is downgraded from 11.0% in April to 10.0%. followed by 7.5% growth in 2022.
The forecast for Southeast Asian growth in 2021 is downgraded from 4.4% to 4.0% as some countries reimpose pandemic restrictions, followed by 5.2% growth in 2022.
Vietnamese economy grew 5.64 percent in the first six months this year despite the fourth COVID-19 wave which broke out on April 27, according to the General Statistics Office.
In the second quarter starting from March, the economy expanded 6.61 percent, mainly buoyed by robust growth of the industry and construction sector (up 8.36 percent).
By Thuy Dung