ADB funds power transmission network
VGP – Governor of the State Bank of Việt Nam (SBV) Nguyễn Văn Bình and ADB Vice President Stephen P.Groff on Feb. 10 inked the first tranche for the US$730 million investment project to upgrade the country's power transmission network.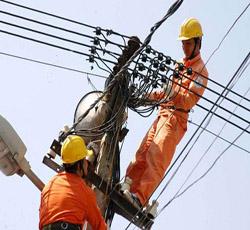 Illustration photo
The project targets to improve power delivery and meet growing demands from industry and households.
The multi-tranche loan facility for the Power Transmission Investment Program begins with a first payment of US$120.5 million.
The Program supports the construction of almost 648 kilometers of 500 kilovolts (kV) lines and more than 100 kilometers of 220 kV lines, upgrades associated substations and training and other support to the National Power Transmission Corporation.
ADB Vice-President Stephen P. Groff, said that to keep the economy powering forward, Việt Nam needs a stable, steady supply of electricity.
"Upgrades in power generation, transmission, and distribution capacity, as foreseen under the Investment Program, will remove bottlenecks and reduce transmission losses, ensure safety and quality of electricity supply, allowing the lights to stay on and the economy to keep growing", he added.
The first tranche, for $120.5 million, will have a 25-year term, an annual interest rate and a commitment charge of 0.15% per year. The program is due for completion in 2020.
By Khánh Phương