Acting President receives newly-appointed Ambassadors from EU nations
VGP - Acting President Dang Thi Ngoc Thinh hosted separate receptions for the newly-appointed Ambassadors from the Netherlands, Belgium, and Denmark who came to present their credentials in Ha Noi on October 16.
October 17, 2018 10:08 AM GMT+7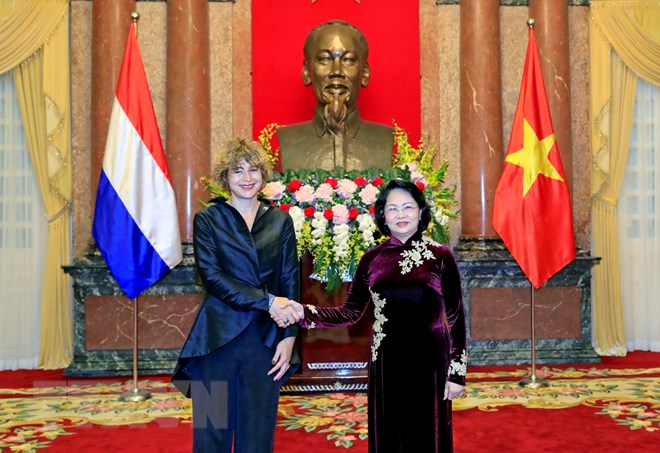 Acting President Dang Thi Ngoc Thinh receives Dutch Ambassador to Viet Nam Elsbeth Akkerman, Ha Noi, October 16, 2018 - Photo: VNA
At the meeting with Dutch Ambassador to Viet Nam Elsbeth Akkerman, Ms. Thinh asserted that Viet Nam greatly values the support Dutch people have given to Viet Nam, especially the Dutch doctors who founded the Medical Committee Netherlands-Viet Nam (MCNV) to provide aid to Viet Nam during wartime and who have continued to offer medical help to disadvantaged areas.
The Order of Friendship awarded by the State of Viet Nam to the MCNV manifested Viet Nam's appreciation towards its humanitarian efforts to improve people's health, reduce poverty, and ensure the country's sustainable development, she added.
She highly spoke of the great progress in Viet Nam-the Netherlands relations across a wide range of fields, including political trust, noting that both nations are now important economic, trade, and investment partners of each other.
She suggested closer coordination between the two nations to deepen their strategic partnership and further push up cooperation in sustainable development, while hoping that the Netherlands will back the early signing and ratification of the EU-Viet Nam Free Trade Agreement (EVFTA).
Ms. Akkerman expressed thanks to the State of Viet Nam for the Order of Friendship presented to the MCNV, saying the two countries share common interest in developing agriculture, water management, and sustainable development which would be ideal areas for broader collaboration cooperation in the upcoming time.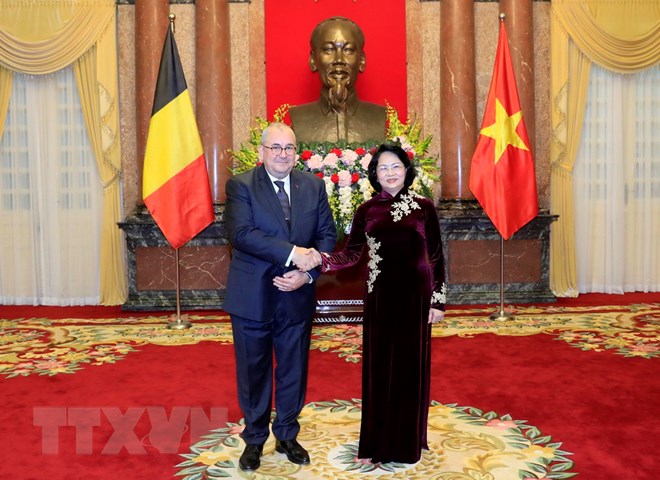 Acting President Dang Thi Ngoc Thinh receives Belgian Ambassador Paul Jansen, Ha Noi, October 16, 2018 - Photo: VNA
Welcoming newly-appointed
Belgian Ambassador Paul Jansen, the Acting President affirmed Viet Nam's recognition of importance to reinforcing its partnership with Belgium.

She proposed the Ambassador closely work with the Vietnamese Ministry of Foreign Affairs and other agencies to intensify high-level exchange visits between the two sides.

The Vietnamese leader congratulated Belgium on its being elected as a non-permanent member of the UN Security Council for the 2019-2020 tenure and asked Belgium to back Viet Nam's bid to run for the post during the 2020-2021 term.

She expressed her delight on the development of the two nations' economic, trade, and investment relations, adding that Viet Nam will do its utmost to improve the local business climate and economic restructuring towards sustainable growth and the reform of State-owned enterprises.

She expected that Belgium will facilitate the two sides' businesses to seek partnership in the areas of agriculture, sea port, logistics, renewable energy, and mining.

The Belgian Ambassador asserted his country's support for Viet Nam's candidacy to the UN Security Council.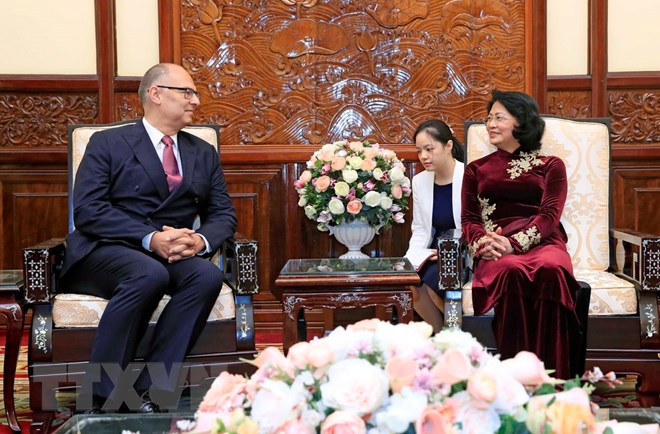 Acting President Dang Thi Ngoc Thinh receivesDanish Ambassador Kim Hojlund Christensen, Ha Noi, October 16, 2018 - Photo: VNA

While receiving Danish Ambassador Kim Hojlund Christensen, the Acting President hailed Viet Nam-Denmark cooperation across multiple fields, especially since the two countries set up a strategic partnership in climate change, energy, environmental protection, and green growth in 2011 and elevated it to the level of comprehensive partnership in 2013.

She expressed her hope that the continued implementation of the Danish Growth Strategy for Viet Nam and new opportunities that would be provided for businesses when the EVFTA is signed.

The new Danish diplomat highlighted the significance of the establishment of the Viet Nam-Denmark Comprehensive Partnership in 2013 as they look forward to stronger cooperation in a multitude of fields, such as politics, investment, energy, education, agriculture, and healthcare.

Denmark will continue support Viet Nam in agriculture, education, energy, healthcare, and climate change adaptation, the Ambassador stressed, adding that a number of Danish companies want to come to Viet Nam for further investment and cooperation.

By Hoang Ha