Acting health minister explains why Covid-19 cases rise so quickly over past days
VGP – The number of Covid-19 cases has risen quickly since the first patient was confirmed in Da Nang on July 25, said acting Minister of Health Nguyen Thanh Long.
August 02, 2020 5:40 PM GMT+7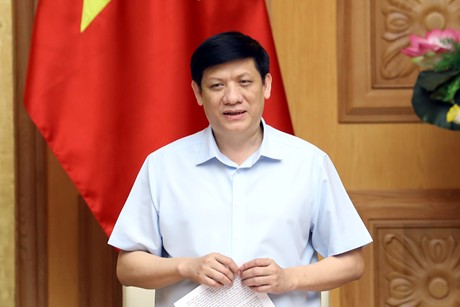 Acting Minister of Health Nguyen Thanh Long speaks at the meeting of the National Steering Committee for Covid-19 Prevention and Control on August 2, 2020. Photo: VGP
Speaking at the meeting of the National Steering Committee for Covid-19 Prevention and Control on Sunday, Long explained that is because of a new and more contagious clade of the virus of foreign origin.
With this new strain, the infection rate is about 5-6 people compared to 1.8-2.2 people in the previous period. Especially, F2 (close contact with F1) is more likely to contract the virus, Long added.
Competent authorities have identified that around 1.4 million people visited the central city since July 1, of whom about 800,000 went to the city's hospitals.
Given the above situation, Long called for concerted efforts by the healthcare sector, localities and other forces to quickly contain outbreak and mitigate fatality rate.
Experts also suggested that authorities continue focusing on early detection and treatment and that citizens must strictly follow preventive instructions like wearing mask at public places and on transport means, avoiding mass gatherings, and washing hands with soap or sanitizer.
Members of the National Steering Committee agreed to propose the Prime Minister to issue a new directive on enhancing effectiveness of the implementation of Covid-19 prevention and control measures.
As of 3:00pm on Sunday, Viet Nam confirmed 590 infection cases, 373 recovered cases and five fatalities.
Of the patient tally, 144 new community transmission cases of Covid-19 have been confirmed since July 25, including 105 in Da Nang, 25 in Quang Nam, one in Dak Lak, eight in Ho Chi Minh City, two in Quang Ngai, two in Ha Noi, and one in Thai Binh./.
By Quang Minh