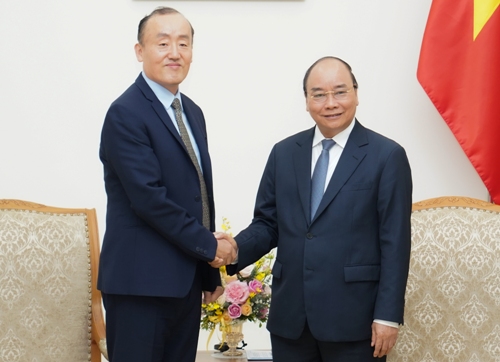 Prime Minister Nguyen Xuan Phuc (R) receives World Health Organization (WHO) Representative to Viet Nam Kidong Park, Ha Noi, March 14, 2020 - Photo: VGP/Quang Hieu
>>> PM demands fast responses to curb COVID-19 spreading
The approach is charaterized with drastic directions of the Government and the Prime Minister, steady investment for pandemic prevention and control and the serious involvement of people, according to the WHO official.
Park also said he was impressed with Viet Nam's strategies on treatment of COVID-19 patients and isolation, in which patients can be treated right at grassroots clinics in a bid to minimize transmission and the number of medical facilities capable of COVID-19 diagnosis has been increased to 30.
The WHO Representative recommended Viet Nam continue its approach and strategies to curb the pandemic, or even taking stronger measures, pledging to join hands with the Vietnamese Ministry of Health and other functional agencies in fighting against the pandemic.
Meanwhile, PM Phuc said Viet Nam has deployed a range of early, drastic and comprehensive measures wiht the involvement of the whole political system, including police and military forces, in order to protect lives and health of the Vietnamese people.
The Government chief said he asked the Ministry of Public Security to strictly fine those who diseminate misleading information on the pandemic on the Internet.
He reaffirmed the Government's determination to stick to dual tasks of fighting the virus and promoting socio-economic development so as to ensure social stability.
Phuc took the occasion to called on the WHO to share information, latest scientific and technological advances as well as facilities, equipment, and treatment therapies to support Viet Nam in the fight against the pandemic.
On March 10, WHO Director-General Tedros Adhanom Ghebreyesus said COVID-19 can be characterized as a pandemic as the number of infection cases increased by 13 times within the recent two weeks.
As of March 14, as many as 115 nations and territories have confirmed infections.
In Viet Nam, total infection cases have increased to 49, of whom 16 ones had been successfully treated and discharged from hospitals. The rest of 32 new infection cases have been reported over the past week./.
By Thuy Dung