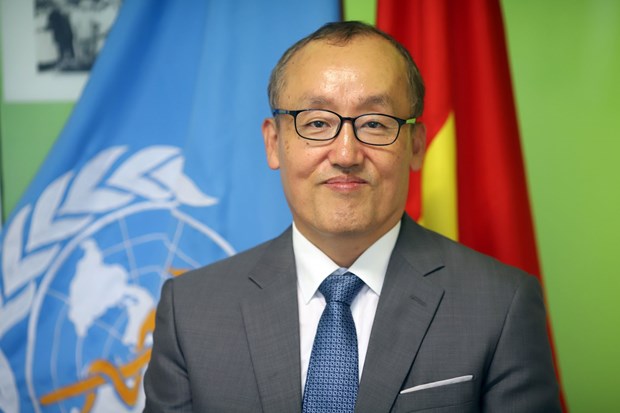 World Health Organization Representative to Viet Nam Dr Kidong Park (Photo: WHO)
Dr Kidong Park, WHO Representative to Viet Nam, made the above comment in a recent interview with the Viet Nam Government Portal.
Park said that Viet Nam responded to the COVID-19 outbreak in a timely, strong and decisive manner using a whole of society approach.
The Southeast Asian country has a robust surveillance and public health emergency response system; dedicated and highly skilled health care workers both at prevention and clinical management side, and the Vietnamese people cooperated with the implementation of the public and social measures, he added.
As Viet Nam has started to slowly resume some social and economic activities, Park said that "COVID-19 is here to stay. We must find a way towards the new normal. To achieve this, we need to move from containing COVID-19 to living with the virus."
Park, however, stressed it is necessary to remain vigilant and break the cycle of complacency and then falling into a state of panic when cases surge as the pandemic is not over yet.
"As long as we have cases, no province is safe until every province is safe. This means that we need to find ways to safely live with it," said the WHO Representative.
From that perspective, Park suggested the Government consider the following priority actions to sustainably adapt to the living with the virus.
First, getting priority populations, especially health workers, older people, those with co-morbidities vaccinated as quickly as possible. Give more priorities of vaccination to areas that are heavily affected by the outbreak, with relatively weaker health system and fragile settings.
Second, continue to strictly practice 5K measures at home, school, workplace etc., with the personal protective behaviors and public health measures that reduce transmission even some social distancing measures are relaxed.
Third, further strengthen health system capacity to better manage serious COVID-19 patients while introducing appropriate care pathway model to avoid overloading of hospitals with mild and moderate cases./.
By Kim Anh