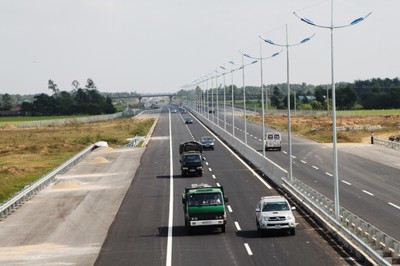 An expressway section from Hồ Chí Minh City to Trung Lương – Photo: Internet

In its Việt Nam Infrastructure Report Quarter 3, 2010, published on Companiesandmarkets.com on May 11, BMI assumed that the country sees stronger growth amid better economic conditions, although its business environment is similar to that in other countries in the Asia-Pacific region.

The report says "Major infrastructure projects were thick on the ground this quarter, as both transport and energy developments were announced."

In March, PM Nguyễn Tấn Dũng approved a fund of over US $18 billion for developing the road system, including more than 5,000 km of expressways nationwide.

In the power sector, the Vĩnh Tân 3 Energy Company (VTEC) has been allowed to build the country's biggest thermoelectric plant with the investment of up to US $2.5 billion. The plant will start in late 2011 and come into operation in 2014 or 2015.

BMI estimates that Việt Nam's industry will reach the market value of VND126 trillion (nearly US $6.7 billion) in 2010 and VND 260 trillion (roughly US $14 billion) in 2014.