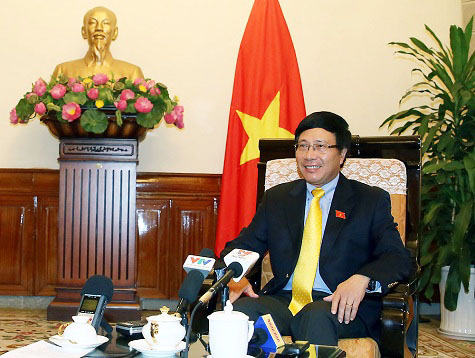 Deputy PM, FM Pham Binh Minh - Photo: VNA
Talking to the press on October 22, Minh affirmed that the event is more meaningful as Viet Nam is celebrating the UN's 70th founding anniversary and the country's 20-year UN membership. It came right after the 2030 Agenda for Sustainable Development approved by world leaders at a UN summit last September.
ECOSOC is one of the six main organs of the UN, responsible for issues related to international economic, social, cultural, educational, health and humanitarian affairs, as well as making recommendations to promote respect for and exercise of human rights.
According to the Deputy PM, the ECOSOC membership shows Viet Nam has gained international credibility and acknowledgments for her national construction and development achievements as well as her contributions to peace and development in the region and the world.
It also marks an important step forward in the implementation of the country's foreign policy of independence, self-reliance and proactive and active international integration in line with the 11th National Party Congress's Resolution.
Following the successful assumption of positions as a non-permanent member of the UN Security Council for 2008-2009, a member of the UN Human Rights Council for 2014-2016, as well as the participation in UN peace-keeping missions, the ECOSOC membership will help Vietnam get involved deeply in the largest global organisation's activities, thus directly taking part in forming international principles and standards.
Viet Nam will work together with 53 other ECOSOC members to monitor, assess and design measures to carry out development goals. She will join in discussions to figure reasons behind both successes and failures in order facilitate the reaching of these goals on the global scope, stated Minh.
He continued to say that this is the second time Viet Nam has assumed the ECOSOC membership, and this tenure's tasks are different and tougher as the council's main mission is to carry out the recently-approved 2030 Agenda for Sustainable Development.
As such, Viet Nam is fully aware of its huge responsibility, the official stated, affirming that with the constructive and cooperative spirit, the country will proactively take part in the council's activities to successfully implement the 2030 Agenda for Sustainable Development and sustainable development goals (SDGs), especially poverty reduction, sustainable and comprehensive economic development, and environmental protection.
Viet Nam should immediately take action to well carry out SDGs, which is the best way to contribute more to the world, Minh suggested.
He expressed his belief that Viet Nam will be one of the pioneers in carrying out these goals as it has successfully fulfilled many millennium development goals (MDGs).
The Deputy PM went on to say that Viet Nam's election to various important agencies of the UN manifests her increasing role and position in the international community.
Prestige is always coupled with responsibility, therefore, the country needs to be well-prepared, often discuss with other countries, listen to partners, and study more initiatives to contribute practically to the ECOSOC's activities as well as successfully reach SDGs, for the interests of people in Viet Nam and around the world, he concluded./.VNA