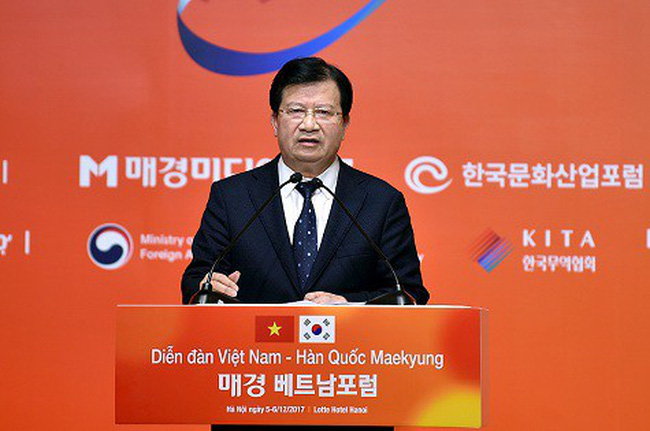 Deputy PM Trinh Dinh Dung at the first-ever Maekyung Korea-Viet Nam Forum, Ha Noi, December 6, 2017 - Photo: VGP/Xuan Tuyen
The Deputy PM made the point at the first-ever Maekyung Korea-Viet Nam Forum held in Ha Noi on December 6 in Ha Noi as part of activities to celebrate the 25th anniversary of Viet Nam-RoK diplomatic ties.
Striving for better investment environment
PM Phuc stressed that the world and region are witnessing various changes in politics, economics, and technology. The Industry 4.0 has brought back opportunities and challenges for national development, individuals, and businesses.
The Government would perfect institutional tools; provide a transparent legal environment; create equality for businesses and citizens; conduct administrative reform; improve productivity; restructure the economy; control inflation; stabilize the macro-economy; and boost growth.
Specifically, Viet Nam would restructure agriculture and rural areas; build new rural areas; promote industrial restructuring; participate in production network and global value and environmentally friendly chains; develop service sectors; and attract high-tech FDI projects.
Following the SOEs privatization process, businesses will be posted at the stock exchange that will generate opportunities for RoK investors to become strategic shareholders.
The country will build a synchronous infrastructure system, especially in transport, energy, and urban development, and encourage PPP models with a view to inviting more domestic and foreign investors to develop infrastructure projects.
Deputy PM Dung said that Viet Nam would attract and train high-tech human resources, especially world-class IT manpower, striving for one million high-tech personnel by 2020.
Waiting for new investment wave
Deputy PM Dung encouraged RoK enterprises to promote investment to develop the strategic partnership of the two countries in a practical and effective manner especially in economics, trade, and investment.
In investment, Viet Nam enables RoK businesses to invest in high-tech manufacturing industry, auxiliary industries, especially electricity industry, automobiles, construction, garments and textiles, IT, energy, agriculture, environment, healthcare, research and development, finance, finance, banks, high-quality service, and PPP infrastructure projects.
In terms of trade, Deputy PM Dung proposed businesses of the two countries to implement the Viet Nam-Korea Free Trade Agreement (VKFTA), strive for US$ 100 billion trade turnover.
Deputy PM Dung said Viet Nam hoped to spur exports of agro-forestry-fishery commodities including rice, tropical fruits, pock, and shrimps, and consumption goods and spare parts to the Republic of Korea.
Finally, the Deputy PM stressed that "Your success means our success."
The Vietnamese Government welcomed foreign investors in general and Korean ones in particular to extricate difficulties and support each other for mutual development, Mr. Dung said./.
By Kim Anh