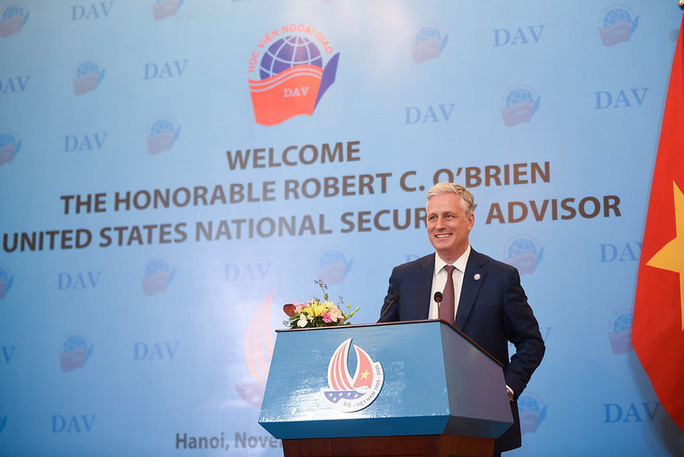 U.S. National Security Adviser Robert O'Brien speaks to students at the Diplomatic Academy of Viet Nam, Ha Noi, November 22, 2020
>>> Robert O'Brien's visit: VN-US ties reach peak and have never been better
O'Brien made the above statement when speaking to students at the Diplomatic Academy of Viet Nam on Sunday morning.
He said that 25 years ago, the two nations set aside a difficult history, and established a friendship which has grown into a strong and comprehensive partnership, one rooted in trust and understanding.
Over the past quarter century, Americans and Vietnamese have traded and invested in each other's countries, creating countless jobs for people of the two nations, said the National Security Adviser.
He affirmed that the U.S. values Viet Nam's partnership and close coordination on shared strategic concerns, including upholding peace and stability in the East Sea and the Mekong.
Both countries are working closely to combat transnational crime and wildlife trafficking, strengthen water security, and increase energy security following the launch of the Mekong-U.S. Partnership in September.
As the world's largest economy and most generous donor in humanitarian assistance, the U.S. stands ready to help boost Viet Nam's economy while expecting Viet Nam to buy more of America's products and host more American companies in the Southeast Asian country, O'Brien said.
On the multilateral front, O'Brien commended Viet Nam for its outstanding Chairmanship of ASEAN this year.
He reaffirmed that the Viet Nam-U.S. friendship is built upon shared interests and deep respect for one another's freedom, independence, and sovereignty, expressing his respect for Vietnamese people's patriotism, vision, determination, and passion for an independent and truly sovereign nation that is not subservient to another.
Earlier, the U.S. National Security Adviser paid a courtesy call on Prime Minister Nguyen Xuan Phuc, met with Deputy Prime Minister and Foreign Minister Pham Binh Minh, Minister of National Defense Ngo Xuan Lich and held talks with Minister of Public Security To Lam.
His three-day visit to Viet Nam is part of activities to mark the 25th anniversary of the Viet Nam-U.S. relations./.
By Quang Minh