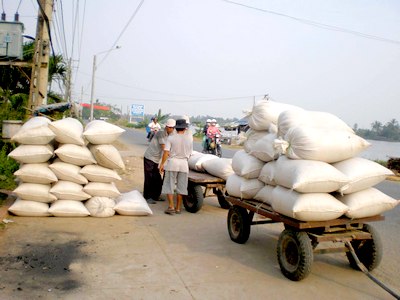 Food records the highest price increase in November 2009 – Illustration photo
The CPI has increased by 4.35% in November, compared to the same period last year, 0.37% and 0.62% higher than the figures in October and September respectively, said the GSO.
The prices of ten out of eleven categories of commodities have gone up within 0.03%-0.87%. Only post and telecommunication services decrease by 0.05%.
Over the past eleven months, the country's CPI rose by 6.91% against the same period last year.
The high price of food in November is attributed to domestic rice exporters' massive purchase and the impacts of the natural calamities in the Central Region and the Central Highlands, said a senior official of the GSO.
Besides, the price increases of steel, cement and houses in big cities all help to push the CPI high this month.
Experts said that the CPI in December may grow over the November figure but the whole-year CPI would just stand around 7%.
The price increases of some key products in November compared to October

Catering service

Food

Foodstuff

Building materials

Beverage, tobacco

Transport

Gold

US$

0.87%

2.22%

0.62%

0.75%

0.44%

0.42%

10.08%

1.45%
By Hải Minh