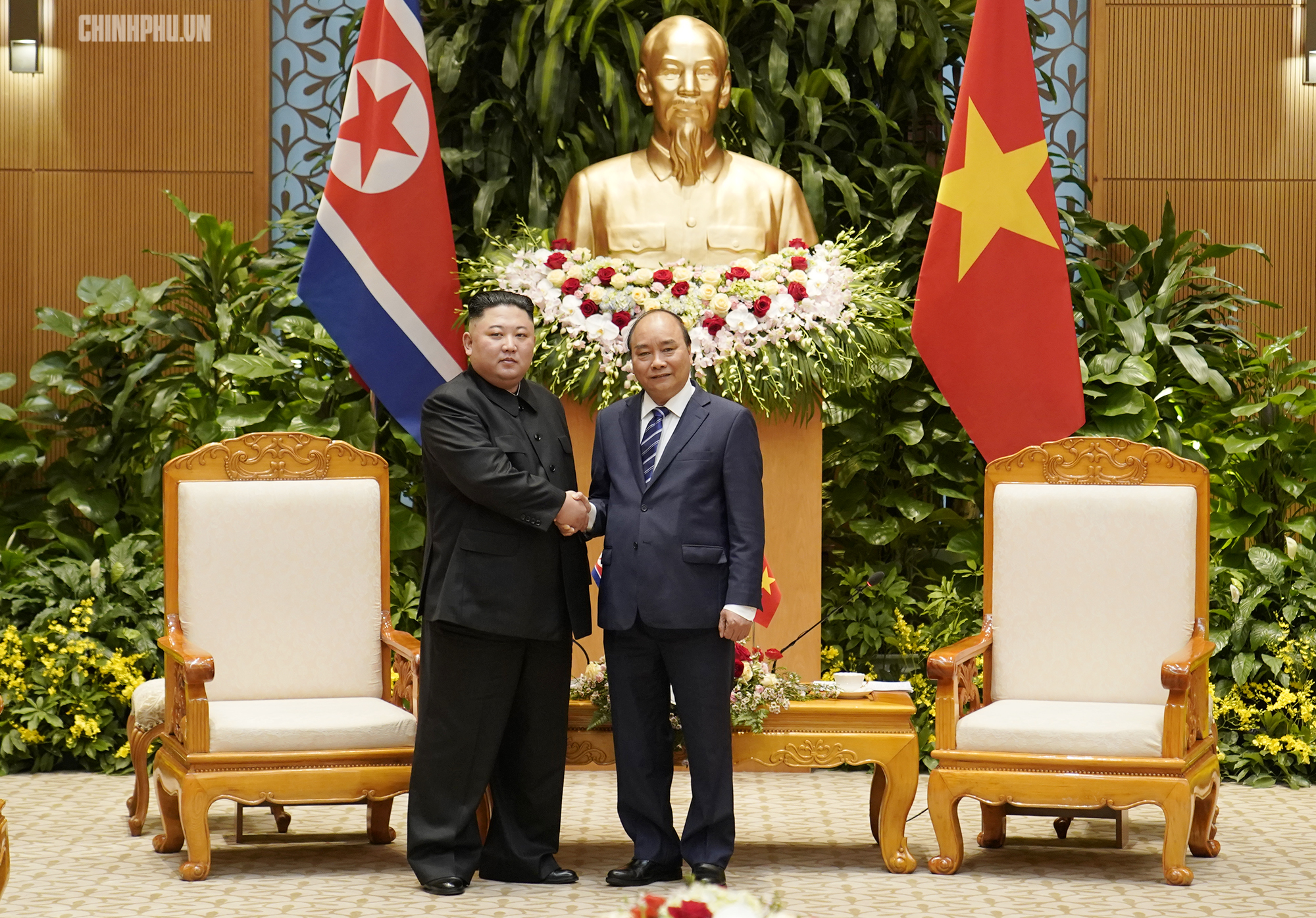 Prime Minister Nguyen Xuan Phuc (R) and Chairman of the Workers' Party of Korea and the State Affairs Commission of the Democratic People's Republic of Korea (DPRK) Kim Jong-un (L) at the Government Headquarters in Ha Noi on March 1, 2019. Photo: VGP
Photos: PM Nguyen Xuan Phuc meets DPRK leader Kim Jong un
As a sincere friend of the DPRK people, Viet Nam consistently supports peace, stability, cooperation and development in the Korean peninsula, affirmed PM Phuc.
He welcomed the efforts made by the DPRK and the US at the second summit in Ha Noi, expressing his hope that the relevant sides will continue beefing up dialogues for peaceful settlement of related issues.
Viet Nam vows to continue support and active contribution to the aforesaid process, the Government chief affirmed.
Viet Nam and the DPRK established diplomatic ties on January 31, 1950, making the latter one of the first country to have established diplomatic ties with Viet Nam after China and Russia in 1950.
Over the past few years, the two countries have held rotational policy discussions at the deputy foreign ministerial level and meetings of the Inter-Governmental committee for economic, scientific, and technical cooperation.

Many important deals have been inked, including agreements on visa exemption for diplomatic and official passport holders (October 1, 1956), cultural cooperation (November 1957), scientific-technical cooperation (October 1958), friendship and cooperation (1961), trade and shipping treaty (December 1962), trade (May 2002), double-taxation avoidance (May 2002), and sea transport (June 2002), among others.
Earlier the same day, the Party General Secretary and State President Nguyen Phu Trong hosted a welcome ceremony for and held talks with the DPRK leader Kim Jong un at the Presidential Palace.
Kim also met with top Vietnamese legislator Nguyen Thi Kim Ngan at the National Assembly Headquarters in Ha Noi./.
By Ngoc Van