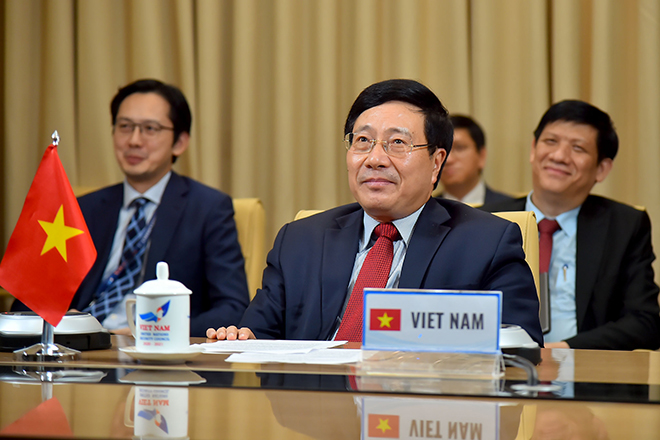 Deputy Prime Minister, Foreign Minister Pham Binh Minh attends the Ministerial Video-Conference of the Alliance for Multilateralism on COVID-19 on April 16, 2020. Photo: VGP
>>> Gov't extends social distancing for at least one week in 28 localities
The first "S" is SOLIDARITY as Viet Nam strongly believes in multilateralism in which multilateral institutions play a critical role in leading and coordinating global efforts to address non-traditional security challenges like the COVID-19 pandemic.
Regionally, ASEAN, which Viet Nam currently chairs, together with our partners, have worked hard to coordinate our response to the pandemic and beyond, Minh said.
Globally, the United Nations and the World Health Organization continue to be the center for coordination of global efforts up to the expectation of member states. The WHO needs to be effective to ensure its capacity to help developing countries, especially those with weak health systems.
Minh affirmed that Viet Nam, within its capacity, will make its modest contribution, and also stands ready to provide medical supplies and equipment Made in Viet Nam.
The second "S" is SHARE, including information, experience and best practices, advances in research and development, and vaccines and medicines must be made available, affordable and accessible to all.
The third is STOP, meaning that "As we suppress the virus, actions that may hinder efforts or aggravate the situation must be stopped. Power politics and unilateral actions contrary to international law must be stopped. We support the UN Secretary-General's call for a global ceasefire and his appeal to waive sanctions that can undermine countries' capacity to respond to the pandemic."
And the fourth is STIMULATE the economy because countries need to start preparing our post-COVID19 development plan which includes coordinated policies and measures to stimulate the economy, trade and investment, stabilize the financial market, and restore the confidence of businesses and the people.
Deputy PM, FM Minh expressed his confidence that with strengthened multilateral efforts in the spirit of global solidarity, the global community will prevail over this pandemic and "build back better"./.
By Huong Giang
Follow us on Twitter @VNGovtPortal