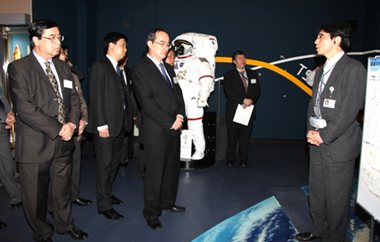 Deputy PM Nguyễn Thiện Nhân (3rd from left) visits Japan's Tsukuba Space Center, Tsukuba Science City, Japan, May 19, 2010 – Photo: VGP/Từ Lương

Deputy PM Nhân made the statement during his visit to Japan's Tsukuba Space Center on Wednesday.

He said that the Vietnamese Government on June 14, 2006 approved a strategy for space technology research and application until 2020 as the first legal framework for Việt Nam to develop the very industry.

Việt Nam is among five most vulnerable countries to impacts of the global climate change, thus the need to develop space technologies to prevent natural disasters and protect resources and environment is prioritized.

In this regard, the country considered Japan first partner to share experience of management skills, human resource and infrastructure preparations for the industry, Deputy PM Nhân said.