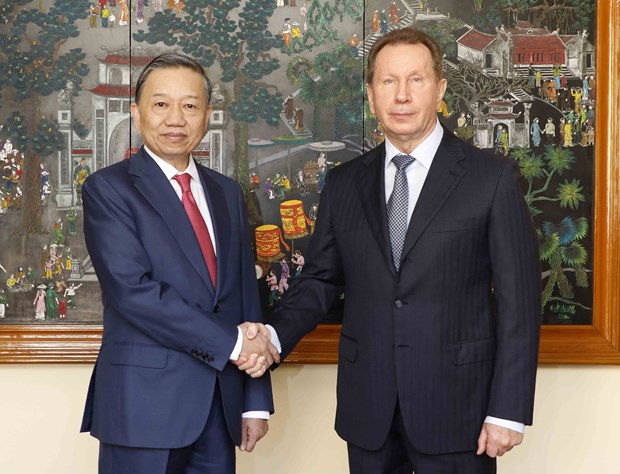 Minister of Public Security, General To Lam and Director of the Russian National Guard General Victor Zolotov hold talks in Ha Noi on December 3, 2019 - Photo: VNA
At the talks, Lam expressed his belief that the Russian delegation's visit will be a milestone in consolidating and developing cooperation between the two sides in crime combat, and security and order protection, contributing to deepening fine friendship between Viet Nam and Russia, especially at the time when the two countries will celebrate the 70th anniversary of diplomatic ties in January 2020.
Given the prevalence of new crimes, especially cross-border organized ones, terrorism, drug crime and human trafficking, Lam called for more effective cooperation between the Vietnamese Ministry of Public and the National Guard of Russia.
For his side, Zolotov said the National Guard of Russia hopes to enhance partnerships with the Vietnamese ministry in all areas of shared concern, particularly security and safety.
The two sides agreed to step up cooperation, learn from each other's experience in crime combat and organize training courses on fighting terrorists and saving hostages, among others.
Minister Lam and Director Zolotov signed a memorandum of understanding (MoU) at the end of the talks.
By Hoang Ha