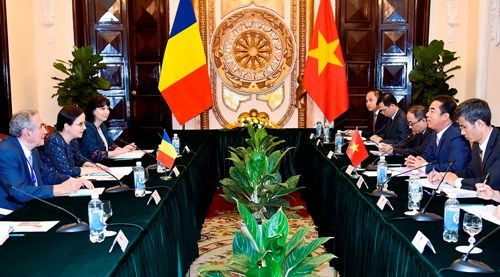 Vietnamese Deputy Foreign Minister To Anh Dung and Romanian Secretary of State for Global Affairs Monica Gheorghita co-chair a political consultation in Ha Noi on May 14, 2019 - Photo: VNA
Viet Nam always treasures its traditional friendship and multifaceted cooperation with Romania, asserted Dung, expressing thanks to Romania, which is holding the EU presidency for the first half of 2019, for pledging to strongly support the early signing and ratification of the free trade agreement and the investment protection agreement between Viet Nam and the EU.
He affirmed that Viet Nam is ready to serve as a bridge to enhance Romania and the EU's cooperation with ASEAN when it takes over the ASEAN Chair position in 2020.
The official also appreciated Romania's commitment to supporting Viet Nam's candidacy for a non-permanent seat in the United Nations Security Council for 2020-2021.
For her part, Secretary of State confirmed that Romania attaches importance to promoting cooperation with the Southeast Asian nation, especially in trade and investment.
At the consultation, the two sides agreed to increase mutual visits and meetings between the countries' leaders, continue to effectively implement the political consultation mechanism between the foreign ministries' general department directors and deputy ministers, and work closely together to organize activities marking 70 years of bilateral diplomatic relations in 2020.
The countries will soon organize the 16th meeting of the joint committee for economic cooperation so as to discuss orientations for ties in the fields matching Romania's demand and Vietnam's strength, including oil and gas, oil refinery and petrochemistry, architecture, construction, seaports, medicine, agriculture, and food processing.
They also agreed to step up educational collaboration through the effective use of the 20 scholarships that Romania gives to Viet Nam, as well as work towards the signing of a new educational cooperation program.
The officials concurred in enhancing partnerships in agriculture and labor, considering these as fields with high potential for bilateral cooperation in the time ahead.
At the event, Deputy Minister Dung and Secretary of State Gheorghita shared the view on the importance of improving the effectiveness of global governance, regional connectivity, and international law.
By Hoang Ha