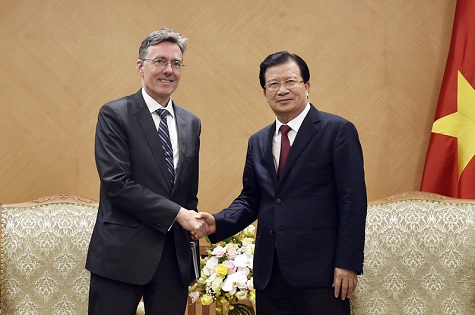 Deputy PM Trinh Dinh Dung receives Vice President of the AIIB Joachim von Amsberg, Ha Noi, September 11, 2018 - Photo: VGP/Nhat Bac
Deputy PM Trinh Dinh Dung made that statement on September 11 at his reception for Vice President of the AIIB Joachim von Amsberg who is attending the World Economic Forum on ASEAN (WEF ASEAN) in Ha Noi.
At the meeting, the Deputy PM highly spoke of the AIIB's commitments to supporting Viet Nam to get access to its capital for investing in infrastructure, serving for the nation's socio-economic development.
The Vietnamese Government orients and facilitates businesses to mobilize capital, especially from financial organizations such as the AIIB in the mode of self-borrowing and self-payment without Government's guaranty, he said, adding that the Government commits to maintaining the sustainability of policy and protecting investors.
He proposed the AIIB closely coordinate with the Vietnamese ministries, agencies and localities to soon agree the capital sponsor for specific infrastructure project, consider reducing interest rate for loans, increase the proportion of AIIB funding for projects and provide funding support for co-financing and other technical assistance to increase the incentive of AIIB for Viet Nam.
Mr. Joachim von Amsberg thanked contributions and support of the Vietnamese Government for AIIB, adding that Viet Nam has been an active member of the AIIB and raised their crucial voice in AIIB's activities.
The AIIB is concerned about support for specific infrastructure development projects in Viet Nam, he said, asserting to hold more meetings with the Vietnamese side on the sidelines of WEF ASEAN to reach final decisions.
By Thuy Dung