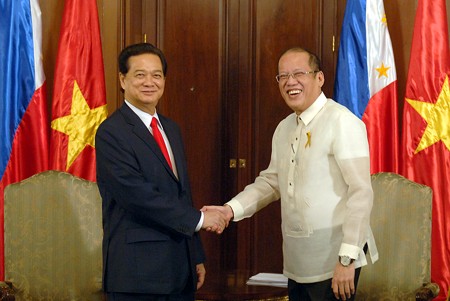 PM Nguyen Tan Dung and Philippine President Aquino, Manila, May 21, 2014 - Photo: VGP
The agreement was made during their talks in Manila on May 21
st
as part of PM Dung's tour to the Philippines from May 21-23.
PM Dung congratulated the Philippines on reaching a peace accord which puts an end to decades of conflicts and opens up development opportunities in the Southern part of the country. Meanwhile, President Aquino thanked Viet Nam for its valuable assistance to the Philippines to overcome the consequences of the typhoon Haiyan last year.
Regarding the East Sea issue, the two leaders shared their deep concern over the current especially dangerous situation in the East Sea after China have conducted many acts that violate international law, including the 1982 UN Convention on the Law of the Sea, seriously infringe waters of the coastal countries. Particularly, China illegally installed the drilling rig Haiyang Shiyou 981 and deployed many vessels in Viet Nam's exclusive economic zone and continental shelf, seriously threatening peace, stability, maritime security, safety and freedom in the East Sea.
The two countries vehemently denounce and call on the international community to demand China stop its acts of infringement, strictly comply with international law, the 1982 UN Convention on the Law of the Sea, the Declaration on the Conduct of Parties in the East Sea, and work toward the conclusion of a Code of Conduct in the East Sea./.
By Huong Giang