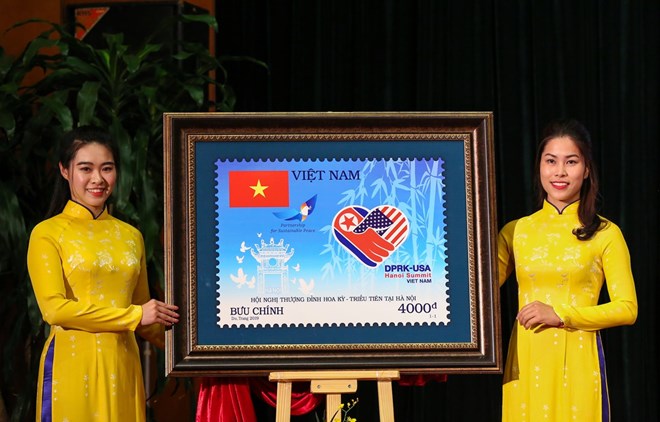 A stamp sample introduced at a ceremony on February 26, 2019, ahead of the second Trump-Kim Summit. Photo: VGP
The launching ceremony was jointly held on Tuesday by the Ministry of Information and Communications and the Ministry of Foreign Affairs.
Each stamp is designed with the size of 43mm x 32 mm and one blog which is 222 mm x 114 mm and is used in the postal network between February 26, 2019 to December 31, 2020.
Under the stamp is the image of Khue Van Cac (The Pavillion of Constellation of Literature) - the symbol of Ha Noi which is chosen for the second Trump-Kim Summit.
The stamp set shows the US and DPRK leaders' hand-shaking on the background of Vietnamese peaceful and friendly bamboos.
It also depicts the Sotheast Asian country's flag and the bird of peace with the words "partnership for sustainable peace" in order to confirm Viet Nam capacity to host international events as well as its friendliness, hospitality and responsibility towards the world's sustainable peace.
The small stamp helps deliver the message of "Viet Nam- A safe and friendly destination" and "Ha Noi-City for Peace" to international friends./.
By Quang Minh