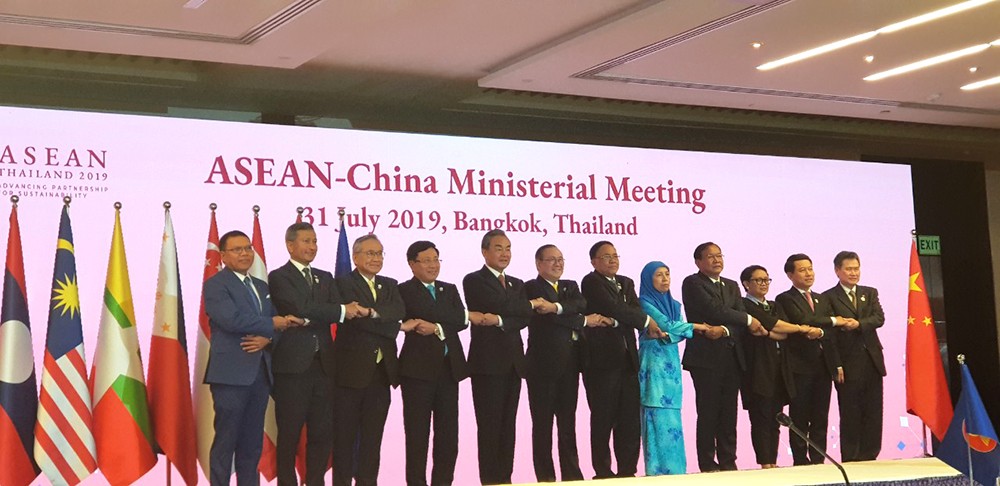 ASEAN and Chinese Foreign Ministers to the ASEAN-China Ministerial Meeting in Bangkok, Thailand on July 31, 2019
>>> VN, Indonesia call for observation of int'l law, UNCLOS
>>> Deputy PM, FM Minh meets Foreign Ministers on sidelines of AMM-52 in Bangkok
>>> VN welcomes Japan's constructive voice over peace, security matters
>>> US advocates ASEAN's efforts in ensuring peace, security
>>> VN actively joins negotiation process, seriously enforces UNCLOS
Minh stressed the point at the ASEAN-China Ministerial Meeting in Bangkok, Thailand on July 31.
Such activities seriously threaten the legitimate rights and benefits of coastal countries, erode trust, and intensify tension, thus they are unconducive to peace and stability in the region, Minh stressed.
He reaffirmed the consistent position of ASEAN on the importance of strengthening trust, avoiding militarization, exercising self-restraint, and taking no action may may further intensify the situation.
Minh called for strict observation of the international law, including the 1982 United Nations Convention on the Law of the Sea (UNCLOS), towards achieving a Code of Conduct in the East Sea that is effective, practical and in accordance with the international law.
The Vietnamese Deputy PM, FM highlighted the strategic significance of the ASEAN-China relations, affirming that that Viet Nam will actively work with ASEAN countries to deepen ties, particularly in such areas like economy, trade, investment, sustainable development, and people-to-people exchanges among others.
At the meeting, ASEAN and Chinese Foreign Ministers discussed frankly about recent developments in the region and in the East Sea situation as well.
Many of the Foreign Ministers emphasized the importance of fostering trust and confidence building and ensuring peace, stability, safety, and freedom of navigation and aviation in the East Sea.
The ASEAN Foreign Ministers underlined the necessity to uphold and abide by the international law, including the UNCLOS and the Declaration on the Conduct of Parties in the East Sea, and to work toward conclusion of an effective and efficient Code of Conduct.
The same day, ASEAN Foreign Ministers also issued a Joint Communique, in which they said the land reclamations, activities and serious incidents in the East Sea have eroded trust and confidence, increased tensions and may undermine peace, security and stability in the region./.
By Huong Giang