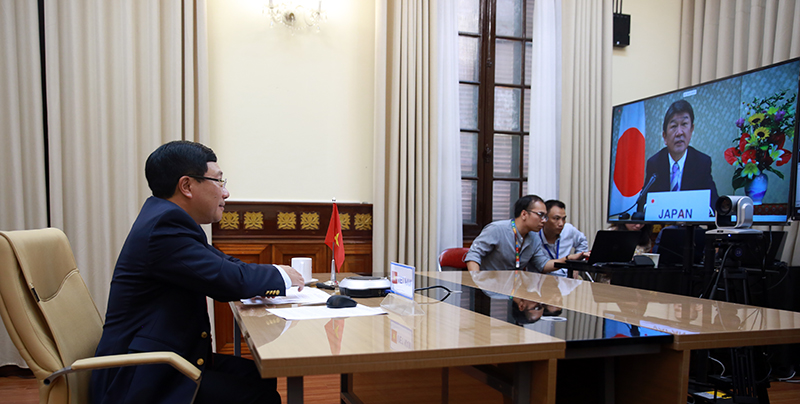 Deputy Prime Minister, Foreign Minister Pham Binh Minh co-chairs the 13th Mekong-Japan Foreign Ministers' Meeting on July 9, 2020. Photo: VGP
Minh made the above
statement
while co-chairing the 13
th
Mekong-Japan Foreign Ministers' Meeting held online on July 9.
"As we are all aware, the Mekong river basin has witnessed increasing occurrence of extreme whether events. Between late 2019 and early 2020, the region suffered from a major drought and salination, which left millions of people without access to safe water and lost livelihood," said Minh.
He added that the drought has also undermined farm yields and harvest, thus seriously affecting food security of the region.
To ensure the success of the above-mentioned Initiative, he propose that the Mekong countries and Japan should task their senior officials to develop a work plan with specific actions and clear timeline.
Minh welcomed the New KUSANONE Mekong SDGs initiative announced by Japanese Foreign Minister Motegi, expressing his strong belief that this Initiative will support Mekong countries in realizing key aspects of the SDGs.
The Vietnamese Deputy PM also suggested that closer linkages between Mekong-Japan cooperation and ASEAN Community building process will help enhance the synergy of our efforts, bringing greater benefits to both businesses and people.
From that perspective, Minh believed that coordination between Mekong-Japan mechanism and relevant ASEAN fora should be enhanced, including exploration of the possibility of joint projects and activities.
On behalf of the Government of Viet Nam, Minh conveyed deep sympathies to Japanese over the human and property losses caused by recent flood in the Northeast Asian country.
The Japanese side announced that it will provide medical supplies worth US$56 million to the Mekong countries. Photo: VGP
He also extended thanks to the valuable assistance from Japan for Viet Nam's fight against the COVID-19 pandemic.
During the meeting, foreign ministers from five Mekong countries, namely Cambodia, Laos, Myanmar, Thailand and Viet Nam, and Japan discussed Mekong-Japan cooperation in response to the COVID-19 pandemic as well as measures to enhance their trade and investment ties in post-pandemic time.
Amid complicated developments of the global economy, the foreign ministers reaffirmed the necessity to foster collective efforts in the pandemic containment and economic recovery.
Regarding healthcare cooperation, the ministers agreed to step up information sharing on the epidemic containment policies in a transparent and more timely manner, as well as mobilization of resources for manufacturing of vaccines and consolidation of the capacity of healthcare system in each country.
The Japanese side announced that it will provide medical supplies worth US$56 million and training for medical workers of the Mekong countries.$0 $0Japan also committed to offering at least US$50 million to help the Mekong countries improve their capacity to respond to the pandemic and to providing a loan for the region to deal with pandemic-caused issues./.
By Huong Giang