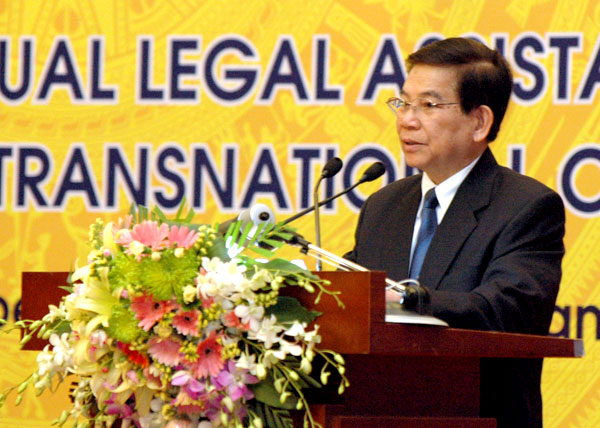 Vietnamese State President Nguyễn Minh Triết delivers speech at the opening ceremony of the 6th ASEAN-China Prosecutors General Conference, Hà Nội, November 24, 2009 - Photo: DĐDN

The 6th ASEAN-China Prosecutors General Conference was opened in Hà Nội on Tuesday morning under the theme "Strengthening cooperation in mutual legal assistance in criminal matters to effectively combat transnational organized crimes."

Giving the opening speech to the conference, Vietnamese State President Nguyễn Minh Triết noted that the increased exchange of experience of science, education, labor, environment protection, justice, and fighting against transnational crimes is a vivid evidence for the effective connectivity and bilateral and multilateral cooperation between ASEAN member states and China.

The head of state also highlighted Việt Nam's efforts in reforming judicial activities.

According to Mr. Trần Quốc Vượng, Head of Vietnam's Supreme People's Procuracy and chairman of the conference said at the opening session that transnational organized crime situation has become more complex in recent years in the region.

"Strengthening the cooperation among countries to prevent and fight against transnational organized crimes is important to the international community as a whole and the ASEAN community in particular," said Mr. Vượng.

He expects delegates to the conference could have in-depth discussions to bring forward solutions and action plans to improve cooperation mechanism among procuratorial offices of the ASEAN and China in combating and preventing transnational organized crimes.

Việt Nam has joined, approved and signed dozens of conventions and agreements with the United Nations, international organizations and other countries throughout the world, including the UN Convention on drug control (1997), the UN Convention on organizational transnational crimes (2000) and the UN Convention on anti-corruption (June 2009).