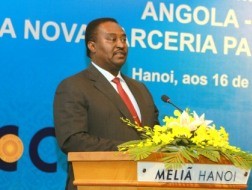 Angolan Vice President Fernando Dias dos Santos at the Việt Nam-Angola Business Forum, Hà Nội, February 16, 2012
Việt Nam will do its utmost to further promote political and economic relations with Angola and create the best conditions for businesses from the two countries to cooperate with each other, said Vice State President Nguyễn Thị Doan.
Ms. Doan emphasized that both Việt Nam and Angola are open markets with great potential, providing good opportunities for businesses from both countries to develop their markets in the coming years.
Angolan Vice President Fernando Dias dos Santos said his country considers agriculture a key sector, producing cereals and livestock for the processing industry. Its economy is gradually rebounding, so the country is creating an attractive environment for public and private investments, as well as devising measures and legal tools for strong economic growth.
Mr. dos Santos expressed his hope that Angolan businesses will build a strong foundation for national economic development, and that bilateral economic cooperation will progress in the near future.
The forum witnessed an agreement signed between the Việt Nam Construction and Industry Equipment Joint Stock Company and Angola Tamar LDA Corporation to build houses for staff of the Angolan Ministry of Defence worth US$3 billion over five years./.
(VOV)