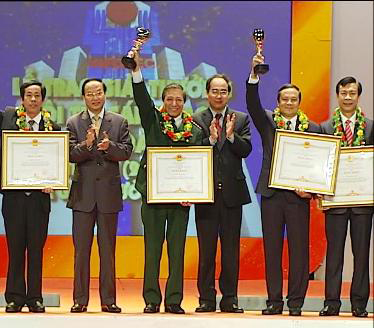 Member of the Political Bureau of the Communist Party of Việt Nam (CPV) Central Committee Tô Huy Rứa (2nd from left) and Deputy PM Nguyễn Thiện Nhân (3rd from right) at the 10th VIFOTEC prize conferring ceremony, Hà Nội, January 19, 2009 – Photo: VGP/Từ Lương
The Ministry of Science and Technology and the Việt Nam Union of Scientific Technological Associations (VUSTA) jointly held the 10
th
VIFOTEC prize-conferring ceremony yesterday in Hà Nội in respect of candidates' outstanding contributions to the country's scientific and technological development.
Some 66 individuals and organizations were awarded, including 6 first-grade prize, 12 second and 18 third ones.
Making his remarks at the ceremony, Deputy PM Nguyễn Thiện Nhân said that technological innovation plays as a driving force for the country's socio-economic development and people's thirst for creation.
Mentioning Việt Nam's science and technology development strategy, Deputy PM Nhân revealed that about 1,000 public servants will be sent abroad to acquire PhD degree every year, since 2010 on.
In the next 15-20 years, Việt Nam expects to produce world-class technological achievements, he continued.
Deputy PM Nhân hoped that the VIFOTEC winners would continue to put high applicability of their technological solutions into reality.
By Hải Minh