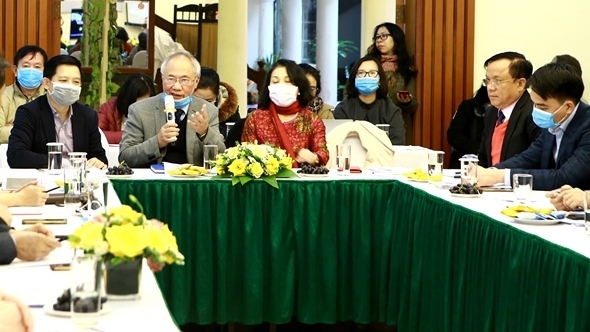 Participants at the event
Speaking at the event, VITA Vice Chairman and Chairman of the Viet Nam Society of Travel Agents (VISTA) Vu The Binh affirmed that Vietnamese travel agents are determined to accompany the State in preventing and combating the nCoV epidemic, while seriously implementing the State's directions and grasping information about the epidemic reality to effectively apply prevention and control measures.
The VITA put forward some solutions for businesses and tourism associations to discuss aiming to remove difficulties, such as accelerating domestic tourism and focusing on promoting the exploitation of tourism markets beyond the coverage scope of the epidemic.
In the immediate future, the VITA and local tourism associations will propose the Government to issue support policies for travel companies to boost the attraction of tourists to Viet Nam. At the same time, the VITA's relationships with the countries that are the markets of Vietnamese tourism will be promoted to support and accelerate the exchange of tourists in the markets outside the epidemic zone.
In addition, the VITA will coordinate with training establishments and travel businesses to organize seminars and training courses for key officials of the businesses and local tourism associations on the application of the 4.0 technologies in tourism, the development trend of Vietnamese tourism, and experience in building the community-based ecotourism products.
According to Binh, the VITA will collect and synthesize the ideas of travel agents and tourism associations of localities nationwide to propose official recommendations to the Government and the relevant units, aimed at issuing policies to support travel companies in the difficult situation caused by the ongoing nCoV epidemic.
According to VISTA Vice Chairman Phung Quang Thang, since the tourism sector is easily affected by natural disasters, epidemic diseases and wars, the nCoV outbreak poses huge economic losses for the world's economy and for the tourism sector in particular.
In Viet Nam, total losses caused by the outbreak to the country's hospitality sector have been estimated at tens of trillion VND./.
By Vien Nhu