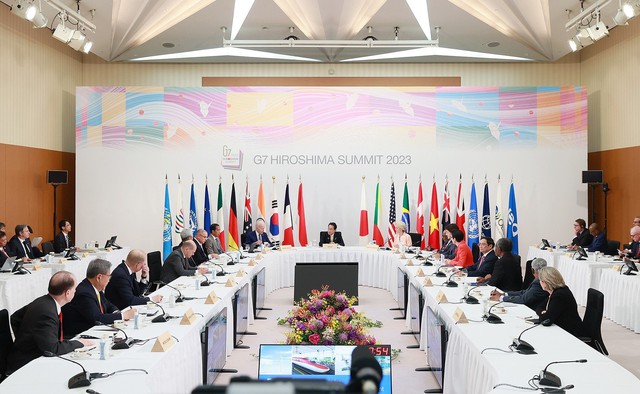 Addressing the G7 outreach meeting in Japan on Saturday, Prime Minister Pham emphasized that sustainable development, climate change adaptation, greenhouse gas emission reduction and energy transition can only be a success through adopting a global and people-centered approach, upholding multilateralism, deepening international cooperation, and promoting self-reliance of each country.

With regard to energy transition, the real conditions and development level of each country should be taken into account and this process should be translated into feasible roadmaps, Pham said.
As science and technology and innovation is key to sustainable development for all countries, Prime Minister Pham asked the G7 countries and international organizations to assist developing countries in acquiring new technologies, improving institutional, infrastructure, human resource, and governance capacity.
Prime Minister Pham said effective mobilization and use of resources is vital to sustainable development, thus, G7 countries need to prioritize timely and effective implementation of their financial commitments.
He reaffirmed Viet Nam's determination to realize its commitment to achieving net-zero emissions by 2050 though Viet Nam is still a developing country and has made tireless efforts to overcome consequences of wars.
Pham voiced support for the Asia Zero Emission Community (AZEC) initiated by Japan and informed that Viet Nam has adopted the National Power Development Plan for the 2021-2030 period, vision to 2050, giving priority to renewable energy development.
Viet Nam has tremendous national endowments, with four to five kilowatt-hours per square meter for solar and 3,000 kilometers of coastlines with consistent winds in the range of 5.5 to 7.3 meters per second./.