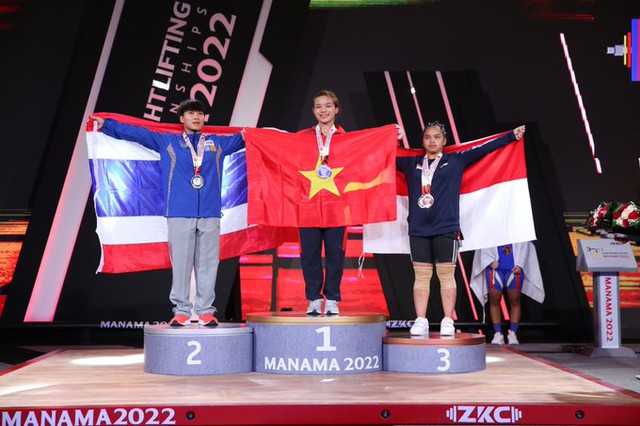 Among Vietnamese athletes, Pham Thi Hong Thanh made a hattrick with three golds in the women's 64kg category.

Thanh was confident and at her peak when taking part in the continental tournament after she won title and set up records at the 31st SEA Games in Ha Noi in May.
The 23-year-old showed off her power with highest weights in all events although it was the first time she competed in the Asian competition.
Thanh lifted 100kg in the snatch, 117kg in the clean and jerk and 217kg in total, leaving five rivals from Thailand, Indonesia, Chinese Taipei, Iran, and Jordan far behind.
217kg was not Thanh's best score. At the SEA Games, she set a new height with a total of 230kg.
Earlier, Lai Gia Thanh took two golds in the men's 55kg class. He triumphed in the snatch event with a lift of 120kg and in total with 262kg.
Khong My Phuong topped the podium twice in the women's 45kg pool. She had no rival in the snatch event, lifting 78kg and in total of 166kg.
Thanh also grab gold and record at the 31st SEA Games while Phuong took her silver in the regional sport meet debut, helping Viet Nam place second in the overall ranking.
Nguyen Tran Anh Tuan and Quang Thi Tam claimed one gold medal each in the men's 61kg clean and jerk (161kg) and women's 59kg snatch (93kg), respectively.
Tam also took part in the Asian event for the first time. Prior to the Manama competition, she won golds in the Asian junior championship in Uzbekistan in August.
Although the competition runs until October 16, Viet Nam wrapped up the competition and returned home.
Apart from golds, the team with seven athletes bagged six silver and one bronze medals.
The result was much better than what they did two years ago as they took only two bronzes./.