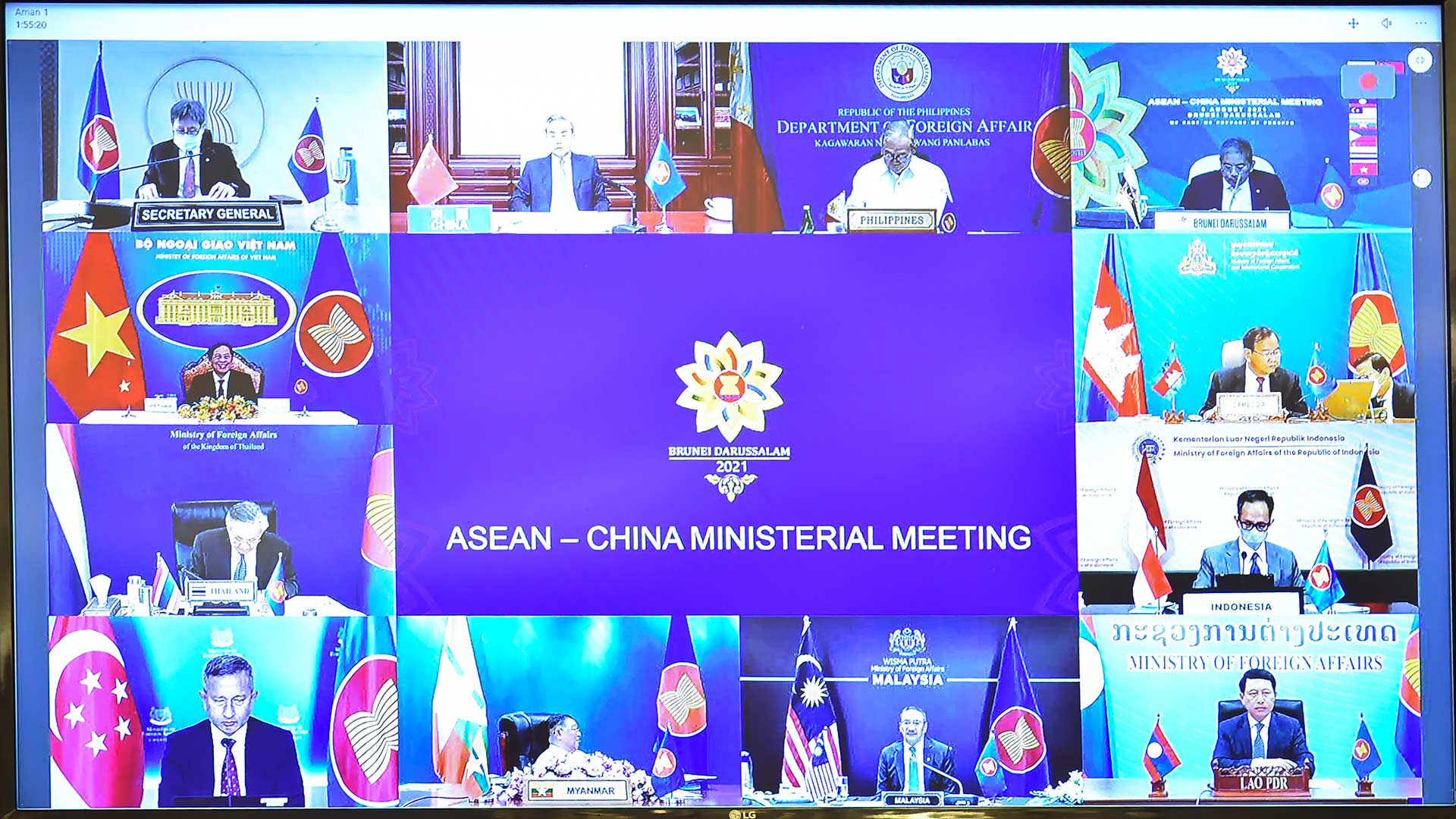 Foreign ministers to the ASEAN-China Ministerial Meeting, August 3, 2021. - Photo: The Ministry of Foreign Affairs
The Vietnamese diplomat suggested ASEAN and China facilitate exports of ASEAN nations to China and vice versa, promote investment in regional infrastructure development.
He expressed hope that China would continue to provide COVID-19 vaccines to ASEAN and help the member countries to enhance health response capacity.
Bui emphasized that all parties need to show their goodwill in cooperation, take responsible actions and work together in building the East Sea of peace, stability, security, safety and environmental protection; and that all parties must uphold the rule of law and settle disputes and divergences through peaceful measures.
Viet Nam commits to working with ASEAN countries and China to continue full and effective implementation of the Declaration on the Conduct of Parties in the East Sea (DOC) and welcomes the resumption of negotiations on a Code of Conduct in the East Sea (COC), Bui affirmed.
He also reiterated that Viet Nam pledges to try its best to push forward the negotiation process for conclusion of an effective and practical COC that is in line with international law and the 1982 United Nations Convention on the Law of the Sea (UNCLOS 1982), and supported by the international community.
Speaking at the event, Chinese FM Wang Yi asserted that ASEAN always holds a crucial position in China's foreign policy, adding that China advocates ASEAN Community building efforts and ASEAN centrality.
He expressed hope that China's strategic partnership with ASEAN would be elevated to a higher level on the occasion of the 30th founding anniversary of dialogue relations.
ASEAN and China FMs agreed to give priority to effectively containing COVID-19 and supporting each other to boost sustainable recovery.
The ministers affirmed that maintaining an environment of peace, security and stability in the region, including in the East Sea, is the common concern and interests of both ASEAN and China.
At the meeting, Myanmar officially assumed the role as country coordinator of ASEAN-China dialogue relations for the 2021-2024 period. Both sides consented to coordinate in successfully organizing the ASEAN-China Summit in celebration of the 30th anniversary of ASEAN-China dialogue relations./.
By Thuy Dung