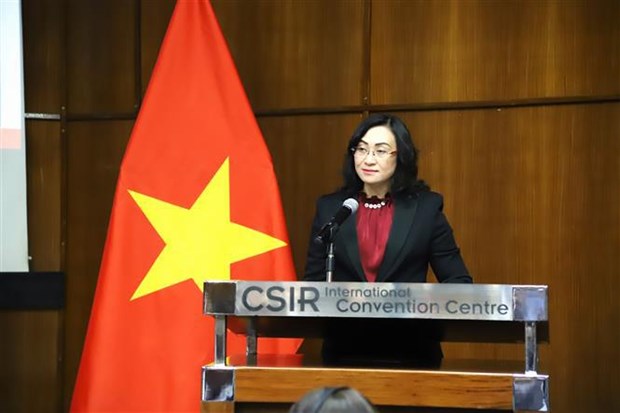 The event is part of a series of activities to mark 30 years of bilateral diplomatic ties and it attracted over 150 participants from both countries' government agencies, localities, and enterprises.
Speaking at the event, Vietnamese Deputy Minister of Industry and Trade Phan Thi Thang emphasized that Viet Nam is considered one of the most dynamic economies in the region and the world.
The country is currently the third largest economy in the Association of Southeast Asian Nations (ASEAN), with a GDP of nearly US$410 billion.
Regarding foreign trade, Viet Nam is among the top 20 economies in international trade, with import-export turnover reaching nearly US$735 billion, and is a full member of 16 Free Trade Agreements (FTA) with most major economic partners in the world.
Notably, Viet Nam - South Africa relations have been progressing, creating a driving force for their economic and trade links.
Particularly, the two countries hold much potential for expanding bilateral trade since their export structures are complementary. This is a favorable condition for their enterprises to consolidate and diversify supply chains.
For her part, South African Deputy Minister of Trade, Industry, and Competition Nomalungelo Gina was impressed with Viet Nam's solid economic and trade development. She shared Thang's view that the two markets are complementary.
She called on both sides to exert more vigorous efforts to seek cooperation chances and connect their enterprises in such industries as automobile, chemical, fertilizer, and textile-garment, to name but a few.
At the seminar, representatives of the two ministries, administrations of some South African localities like Mpumalanga and KwaZulu-Natal, and enterprises of the countries looked into cooperation potential and opportunities in trade, industry, energy, and pharmaceutical production./.