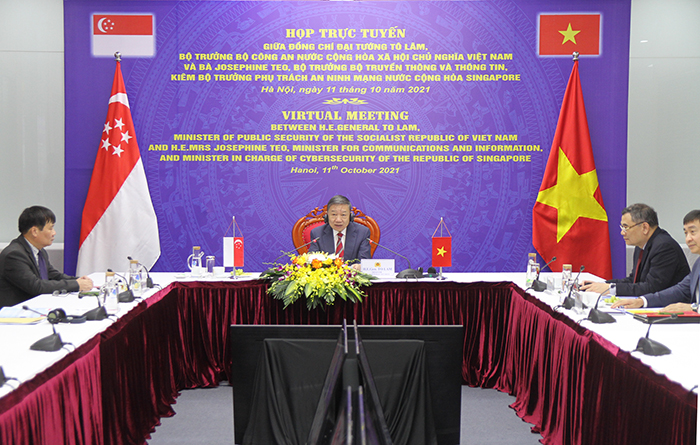 Vietnamese Minister of Public Security To Lam and Singaporean Minister for Communications and Information and Minister in charge of Cybersecurity Josephine Teo hold a virtual meeting, October 11, 2021 - Photo: VGP
Minister To noted with pleasure that the strategic partnership between Viet Nam and Singapore has been ceaselessly consolidated and enhanced over the past time.
The two ministries have maintained active cooperation in transnational crime combat, especially within such mechanisms like ASEAN Ministerial Meeting on Transnational Crime (AMMTC), ASEAN Ministerial Conference on Cybersecurity Crime (AMCC), Association of Southeast Asian Police Commanders (ASEANAPOL), and other regional political and security cooperation platforms, said To.
The two ministries and other competent agencies have also worked together to expand cooperation in information sharing and to discuss cooperation in cyber and high-tech crime combat, he added.
To suggested both countries should continue maintaining and expanding cooperation in cybersecurity via flexible forms and raising public awareness of cybersecurity and Internet skills.
He asked the sides to set up a coordination mechanism to improve the effectiveness of handling cyber and high-tech crime between the two countries' law enforcement agencies.
The Vietnamese minister also asked the two nations to work with other ASEAN member states to reach consensus on awareness and actions regarding cyber security issues toward establishment of common legal frameworks to facilitate international cooperation in this issue.
To emphasized the need to collaborate closely to build an ASEAN Cybersecurity Center and establish a joint cooperation mechanism for relevant long-term and intensive training in the bloc with the support of dialogue countries such as China, Japan and the Republic of Korea.
By Thuy Dung