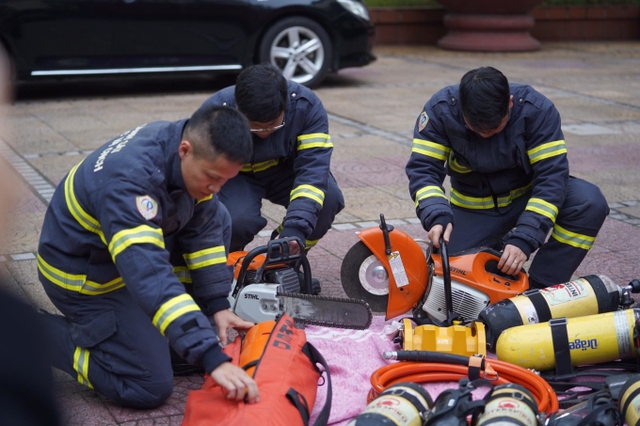 The Vietnamese Ministry of Public Security organized a send-off ceremony on February 9 in Ha Noi.
The team comprises 24 members from the Fire Prevention, Fighting and Rescue Police Departments of Ha Noi and HCMC who have over 10 years of experience in rescue missions under hard conditions.
Addressing the ceremony, Minister To Lam said the team is sent to Turkey for finding victims, providing humanitarian assistance, and helping the people stabilize their lives after the disaster.
The deployment reflects the political commitments of Viet Nam as a responsible member of the international community, staying ready to address difficulties, challenges, and maintain a peaceful and stable environment serving cooperation and development regionally and globally, To said.
Lieut. Gen. To An Xo, spokesman of the ministry, said this is the first time that the security body has sent a delegation on international mission to a disaster area far away from Viet Nam's territory. The group of search/rescue and medical personnel set off immediately after receiving the approval from the Prime Minister.
The 7.8-magnitude earthquake, the most devastating disaster sweeping Turkey since 1939, has so far caused over 15,000 deaths and destroyed dozens of thousands of houses. The local authorities declared a state of emergency serving urgent search and rescue work.
Leaders of the Party and State of Viet Nam cabled condolences to the Turkish and Syrian governments and people./.